Chicago PD Review: Formulaic But Full Of Potential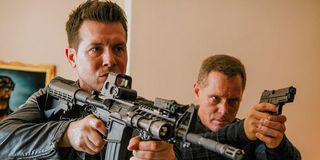 If you've tuned into Chicago Fire over the course of its run, there's a good chance you've met the brash and unintimidated Sergeant Hank Voight (Jason Beghe), a cop with his own set of morals who has been pegged by the firehouse as one of the biggest bad guys in town. In Chicago PD, the writers have written the same detective as a man who puts Chicago first. He's a man who is willing to bend the rules somewhat to make sure his team closes cases. He'll take bribes and information from thugs in order to get ahead, but he also has a tender side and will fight for the people he feels are worthy. It's a refreshing angle for a network TV police officer to have, but otherwise Chicago PD is quite formulaic.
The spinoff series takes place some time after Voight has gotten out of jail and is busy putting together a brand new detective unit. It becomes clear pretty quickly that he has some enemies on the force, but since he's also been given a brand new detail, he seems to have some high-up friends, as well. Voight's new team is actually a pretty large enterprise, comprised of two beat cops (Marina Squerciati and LaRoyce Hawkins) and several detectives (Jon Seda, Jesse Lee Soffer, Elias Koteas and Sophia Bush). Early episodes involve a Columbian thug getting under the PD's seemingly thick skin; a kidnapping also amps up the stakes.
Peppered into the first few episodes are plenty of Chicago Fire cameos, which is an interesting dynamic for the new series. The Fire crew is not typically in awe of their PD counterparts. In fact, many jokes have been made in that series at the PD's expense, and there's plenty of distrust between the two groups on that series when they are forced to work together. During the first few episodes of Chicago PD, however, the infights seem to be a thing of the past. Instead, the police department spends time at Christopher and Otis' bar and Gabriela Dawson (Monica Raymund) pops up on several occasions to help the unit out.
Despite all of the crossover moments, Chicago PD feels like a different series. For one thing, the show isn't incurring the wrath of firefighters everywhere by staging over-the-top fire and rescue operations. While PD's vibe is also one of overt drama, it's also strikingly more serious than its predecessor. There's no goofing around or relationship melodrama—at least thus far. There are fewer wisecracks, too, and while the character show plenty of spunk and grit, much of the conversation during the drama gets down to business pretty quickly.
I doubt Dick Wolf was aiming for "the most serious cop drama" on TV when he pitched Chicago PD to NBC. While the dialogue and tone could change as the show finds its own rhythm, it's not a standout in its current format. The show doesn't have the goofy charm of Hawaii Five-0 and there's a lack of quippy dialogue that programs like NCIS offer. It doesn't have a unique look or a diverse cast. What it does have is Jason Beghe, and that might be reason enough for some to tune in.
Beghe may have been set up as a bad guy during his former incarnation, but he's doing some fine work to prove that Chicago PD is more than just another throwaway spinoff. His character is intense and his motivations aren't always clear. He spends the first couple of episodes attempting to mold a few team members in his own image, and the results could prove to be must-watch TV. If the writers also do some molding, Chicago PD could shape up to match the effort Beghe is putting in.
Chicago PD airs on Wednesdays at 10/9 C on NBC.
Amazing Race & Top Chef superfan with a pinch of Disney fairy dust thrown in. Theme park junkie. If you've created a rom-com I've probably watched it.
Your Daily Blend of Entertainment News
Thank you for signing up to CinemaBlend. You will receive a verification email shortly.
There was a problem. Please refresh the page and try again.