Christina Ricci Lands A Gig On The Good Wife In Season 4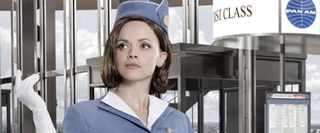 Christina Ricci is hopping from ABC to CBS and leaving her iconic flight attendant costume at the door. For her first TV role after Pan Am was cancelled, the actress will be joining The Good Wife as a guest star in one episode of the series' fourth season. While it would be a goofy gag to see Ricci playing a flight attendant in trouble on the show, The Good Wife is too critically acclaimed for that sort of humor. However, they are looking to bring a funny bone into the drama.
THR is reporting the actress will play a comedienne who courts controversy on the show. The jokes end up getting her into a wee bit of legal trouble and, thus, she enlists Lockhart & Gardner to help her. CBS broke the news via Twitter, so TV Blend will keep you posted if and when more details of the actress' character emerge.
Pan Am wasn't the greatest, but Ricci is a veteran performer and she was even good when starring in a less-than-fabulous series. Because of this, it's really no surprise The Good Wife would want to add her to its slew of really top notch guest stars. Kristin Chenoweth, Annabelle Sciorra, Nathan Lane, Maura Tierney, and Amanda Peet, among others, are scheduled to appear in the Sunday night drama when it premieres at the end of the month.
Ricci is also on board for the upcoming flickThe Smurfs 2, although she's probably keeping her Good Wife credit a little higher on her resume.
You can catch the upcoming guest stars in action beginning Sunday, September at 9 p.m. ET on CBS.