A Christmas Story Retrospective Special Airs Tonight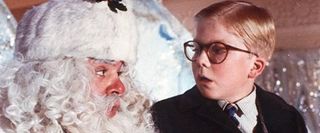 "You'll shoot your eye out!" The phrase has become a part of holiday history and those who don't immediately picture the creepiest Santa ever on top of a hill and a black boot to the forehead are few and far between. A Christmas Story has reached the annals of holiday movie classics, and TV Guide Network is taking fans behind the scenes and bringing the cast back together in a new special.
TV Guide will air the hour-long special tonight, November 26th at 9 p.m. ET, so set those DVRs right now if you love this movie as much as I do. The special plans to interview the cast members about the making of the film, including star Peter Billingsley who played Ralphie, the kid who can't catch a break in his quest to get his hands on a Red Ryder BB Gun. The Cast of A Christmas Story: Where Are They Now? will find out what has changed in the lives of the stars since the movie became a phenomenon.
Also included in the special are a tour of the house in Cleveland where the movie was filmed (it's now a museum) through whose front window that icon of "electric sex" shone forth – the famous leg lamp. And they'll also interview the man who has made a business out of making replicas of said lamp.
As a kid in the 80s I grew up with A Christmas Story and empathized with poor Ralphie. It's hard to believe next year will mark the 30th anniversary of the movie; it should be interesting to see where the lives of the cast have taken them.
Your Daily Blend of Entertainment News