Cinemax Putting Up The Cash For Yet Another Original Action Show, Sandbox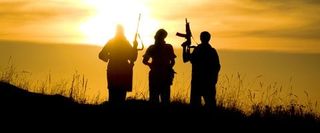 Cinemax may have been the last of the subscription movie channels to get its butt in gear with original TV programming–-- even Encore beat them with Moby Dick, if you count mini series--but they've thrown themselves into the competition as quickly and deftly as a young gymnast. The channel began its TV run in mid-August with Strike Back, a show based on the British series of the same name. A Transporter TV series is also in the making, and Alan Ball has pushed an Amish series, Banshee, onto the network's radar.
With the TV reboot of Transporter's budget running at $48 million and several other series underway, I have no idea how Cinemax is paying for its existing programming. The network is either cutting down on a hell of a lot of movie content or have found the investment pot at the end of the rainbow, because now the network has decided to move forward with Sandbox, another action-drama series.
If you think Transporter's premise is a little over-the-top, there is no chance Sandbox will be in your wheelhouse. According to Deadline, the show will follow a group of veterans who have served in Afghanistan and Iraq. After their tenure, the group head home to Coachella Valley. This is where it gets weird. Apparently, Coachella Valley is teeming with criminals and the group of veterans then decide to use their war skills to rid the town of its bad guys. If only McGruff were given the same ammunition; all that poor dog gets are public service announcements and coloring books.
Cinemax is really getting its action on, and if they can figure out a night to draw in action lovers, that $48 million for Transporter and other costs will likely prove well spent. Stay tuned to Cinema Blend for Sandbox casting news.
Your Daily Blend of Entertainment News