The Clicker's Fantasy Boxing Match - The Office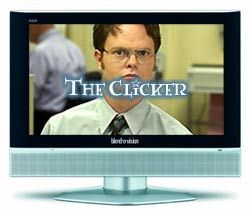 I decided this week to take a break from discussing what's going on in television right now and do a little fantasy boxing piece instead. We were having a discussion in the Cinema Blend forum about Pam and Karen. The conversation focused mainly on which girl is "better" in general. I personally think in the long run, Pam will win that battle but I'm not going to get into that right now. If you're interested in contributing to that debate, check out The Boob Tube in the Cinema Blend forum, here.
The Karen vs. Pam debate got me thinking about who I think would win in a fight if the two were in a boxing ring. Karen strikes me as the type that could really throw down. Maybe that thought comes from having recently watched an old episode of 'Freaks and Geeks' in which Rashida Jones plays a tough girl whose name, coincidentally, is Karen. So yeah, I think Karen would be a mean fighter but I also think Pam would be able to hold her own, if only to get in a few good punches before eventually getting knocked flat.
The Pam vs. Karen fight got me thinking about some of the other 'Office' characters. If there was a boxing match between some of the main characters in 'The Office,' who would win?
Angela vs. Andy – This fight might actually happen in the show after the "Traveling Salesmen" episode in which Andy got Dwight to quit. The look Angela gave Andy at the end of the episode could've flattened him if there hadn't been about 20 feet and a wall between them. In a real boxing match, Andy would be down for the count in one punch.
Kelly vs. Ryan – I love the idea of these two in a fight. I wish I could say this one would be a close call but unfortunately, I don't think it would. If Ryan and Kelly were in the ring together, she'd destroy him. Whether it be an angry fight or a friendly sparring match, Kelly would do some serious damage to Ryan. Sorry Temp. You don't stand a chance.
Michael vs. Toby – these two clearly don't get along. While Toby seems to take the more submissive role in the regular verbal encounters he's had with Michael, I think if he were to be in the ring with Michael, it would be a different story. I like to think that Toby has been repressing his inner rage and given the chance to unleash it in the ring, he'd do it. Michael would be a lot of show and maybe get in one or two punches before Toby would transform into a crazed fighting machine and take him down, Drago-style.
Andy vs. Dwight – Last season I would've put Dwight up against Jim but since Andy showed up, the Dwight/Jim feud has lessened to an extent. This season is all about the competition between Dwight and Andy. If there was anything left of Andy after Angela got finished with him, I think there might actually be a decent fight here. My prediction: both would pretend to be black belts and then Dwight would win with a crane kick to Andy's head. Maybe then Andy would recognize Dwight's awesomeness and give him the bloody-nosed "You're alright, LaRusso!" line.
Finally, the Main Event
Roy vs. Jim – I think this battle would be similar to Rocky vs. Apollo in Rocky 2 (except without the trained boxers). They'd fight until they were both bloody and it would be a last-man-standing win. Who would be the last man standing? Hard to say. If it were last year I'd say Jim but Roy's looking good this season and is probably in lot better shape. Jim's job pushing paper probably doesn't keep him all that fit but I think he'd be able to hold his own for a while.
If you could watch any two characters from 'The Office' duke it out in the ring, who would you pick and who do you think would win? The combinations are virtually endless - Phyllis vs. Meredith; Creed vs. Kevin; Angela vs. Oscar; Darryl vs. Michael; etc.
What to Watch (1/14 to 1/20)
"24" (Fox) 8:00 pm
Day 6: 6:00 am – 7:00 am/Day 6: 7:00 am – 8:00 am - (New!) – The new season starts 20 months after we last saw Jack being taken by the Chinese. As a new terrorist threat emerges to test new President Wayne Palmer, CTU must turn to the only man who can destroy the threat. Jack Frickin' Bauer is back!
"Desperate Housewives" (ABC) 9:00 pm
Not While I'm Around - (New!) – A new neighbor moves into the "cursed" house. Meanwhile Gabrielle is further followed by her secret stalker, whose identity is revealed. Tom runs into problems with his pizza parlor.
"24" (Fox) 8:00 pm
Day 6: 8:00 am – 9:00 am/Day 6: 9:00 am – 10:00 am- (New!) – The two night, four hour, season six premiere continues.
"American Idol" (Fox) 8:00 pm
Season Premiere – (New!) – Season six premieres with embarrassing performances from wannabes in Minneapolis.
"American Idol" (FOX) 8:00 pm
(New!) – Contestants from Seattle drink lots of coffee and make fools of themselves on national television. Watch and laugh.
"My Name Is Earl" (NBC) 8:00 pm
Kept a Guy Locked in a Truck (New!) – Earl organizes a funeral for a dead man who he once locked in a truck. Randy and Catalina start their married life together looking for an apartment.
"Smallville" (CW) 8:00 pm
Justice - (New!) – The episode this entire season has been building up to is finally here. When Impulse is captured and tortured by Lex, the other Justice League members band together for the first time to rescue him.
"Ugly Betty" (ABC) 8:00 pm
In or Out - (New!) – Betty helps Daniel with his broken heart; the masked woman is revealed.
"The Office" (NBC) 8:30 pm
The Return - (New!) – The time is just right for Oscar's return. Andy continues his exploits to endear himself to Michael. Jim aligns with Pam and Karen to play a trick on someone in the office – but not Dwight. "Grey's Anatomy" (ABC) 9:00 pm
Six Degrees: Conclusion - (New!) – In the second part of this episode Harold O'Malley fights for his life against cancer, and Meredith confronts her father about his breakup with her mother.
"Scrubs" (NBC) 9:00 pm
My Musical - (New!) – This week a patient faints and awakens to a condition where everyone is singing. With songs from the composers of Broadway's "Avenue Q" this is sure to be one of the funniest gimmick episodes the series has ever produced.
The Odd Couple(TCM) 8:00 pm
Neil Simon's classic starring Jack Lemon and Walter Matthau.
Dodgeball: A True Underdog Story (FX) 8:00 pm
Vince Vaughn and Ben Stiller star in their version of the classic jocks vs nerds story.
__________________________________________
Do you an idea for a column or just something to say? Scroll down and leave a comment!
Kelly joined CinemaBlend as a freelance TV news writer in 2006 and went on to serve as the site's TV Editor before moving over to other roles on the site. At present, she's an Assistant Managing Editor who spends much of her time brainstorming and editing feature content on the site.
Your Daily Blend of Entertainment News
Thank you for signing up to CinemaBlend. You will receive a verification email shortly.
There was a problem. Please refresh the page and try again.