The Client List Earns A Little Extra In The Ratings During Week 2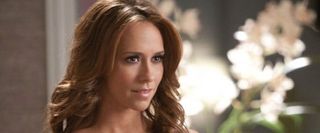 It's rather easy to see why people might be vaguely keeping tabs on The Client List even if they are not actually watching the Lifetime program. The TV movie was a success prior to the development of the series, 90's hottie Jennifer Love Hewitt is starring - in an unconventional role at that - and Lifetime could really use a well-watched program. All of these things have kept watchful eyes geared toward the freshman drama, but as it turns out, the show may not really need the publicity: in its second episode, The Client List posted gains overall as well as in a key demographic.
The Client List premiered last week to 2.8 million viewers, which may not seem like a lot, but was the network's biggest premiere for a show since 2009. According to THR, this week ratings were up another 4% in total viewership. The more impressive numbers however, occurred in women between the ages of 18-49, where ratings increased a good 28%. If there were going to be gains for The Client List they likely would be in that demographic, but still a 28% gain is nothing to be ashamed of.
Because The Client List movie actually drew 3.9 million viewers, the series still has a little way to climb to achieve those same numbers. Still, for cable, the ratings Lifetime is earning are pretty solid for the network and might even contribute to Lifetime becoming more of a viable ratings competitor.
The Client List airs on Lifetime Sundays at 10 p.m. ET.