Clips From Zeke And Luther Stars' New Music Video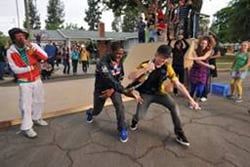 "Ring the bell, school's back in session – break it down!" Tonight just before Disney XD's Zeke and Luther airs, fans will get to see the premiere of Adam Hicks and Daniel Curtis Lee's new music video, covering the classic MC Hammer song "U Can't Touch This." We've got a couple of clips from the video, which premieres tonight and will be available to view on DisneyXD.com.
Zeke and Luther airs on Disney XD tonight (Monday, June 29th) at 8:30 p.m. The video is scheduled to premiere at 8:25 p.m. so tune in early if you want to catch it. Otherwise check it out on Disney XD.com starting tomorrow (June 30th).
Below are a couple of clips from the video:
Cool skateboarding but what's up with them removing all reference to Hammer in the song? Seriously, a little homage to the creator, Disney! I doubt a lot of viewers will notice the altered lyrics anyway, as most of them are probably too young to know the words to the classic rap song. To them, I say: Stop. Hammer-time!
Your Daily Blend of Entertainment News
Thank you for signing up to CinemaBlend. You will receive a verification email shortly.
There was a problem. Please refresh the page and try again.