Comic-Con 2011: Beavis And Butt-Head Are Back And Funnier Than Ever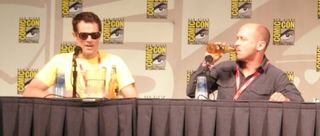 Beavis and Butt-Head make their return to television this summer and while I admit, I had some reservations about the series' revival, after viewing the footage shown at Comic-Con today, I'm not only relieved to see that these two animated teens are exactly as they were in the '90's, but I may even suggest that the revival of this series could be better than the original. If it is, we have MTV to thank, in more ways than one.
The Beavis and Butt-Head panel felt less like a panel and more like we were all hanging out with moderator Johnny Knoxville and series creator Mike Judge as the two kicked back, had a few beers and talked about Beavis and Butt-Head. Judge seems enthusiastic about returning to the show and revisiting the characters, who are still the same age they were when the series originally aired. While they haven't changed, pop-culture and MTV definitely have, which gives the duo plenty to comment on.
We were shown a series of clips from the new season, part of which you can view here. Among the footage shown was Beavis and Butt-Head attempting to get bit by a vampire, believing that in this day and age, you need to be undead to get chicks. They do end up getting bit, but I won't spoil you on who/what bit them or how things worked out. The great Cornholio will also return as his quest for T.P. continues.
In terms of what they're watching on TV these days, it seems that, like MTV, their viewing habits have expanded beyond music videos. They still watch videos, but they also have some hilarious opinions to share about Jersey Shore, 16 and Pregnant,, Teen Cribs and some other shows.
Beavis and Butt-Head pulled no punches when making fun of some of MTV series, which is certainly fitting to their characters, but I was curious about whether or not that might present a problem with MTV. When I spoke with Mike Judge after the panel, he mentioned that MTV did have an issue with something that was put into an episode, "They got upset about something on 16 and Pregnant. We had a little battle," he said. I asked if they were able to keep it in the episode, and he said he thinks they did. "I think for the most part. If it is something I have to take out, it might just go straight online."
It does sound like they might veer away from MTV as far as the footage Beavis and Butt-Head watch, but with all of the shows on MTV, B&B have plenty to work with right there. "Actually, the MTV stuff is like pay-dirt," Judge said. "There were thoughts about going outside to stuff on other networks and try to license it but so far I'm pretty happy with this stuff. I feel like I could do a whole bunch more Jersey Shores and 16 and Pregnants and have fun with that. And they watched MTV back then so it kind of fits that they're watching it now."
Back to the panel, Judge talked a little bit about an upcoming episode, which features Beavis and Butt-Head falling asleep on a bus. What happens when they wake up sounds pretty funny. You can watch Judge talk about that in the video below.
Finally, for all of you King of the Hill fans, while Judge says there are no plans to revive the animated comedy, he did say he wouldn't rule it out, so there's hope!
Over all, the panel left me feeling excited for the series return. Not only does the show have me feeling nostalgic for the earlier episodes, but it's also going to be great to see Beavis and Butt-Head share their opinions on current television.
Your Daily Blend of Entertainment News
Assistant Managing Editor
Kelly joined CinemaBlend as a freelance TV news writer in 2006 and went on to serve as the site's TV Editor before moving over to other roles on the site. At present, she's an Assistant Managing Editor who spends much of her time brainstorming and editing feature content on the site.