Comic Con: Futurama Ignores Controversy, Promises To Take On Twitter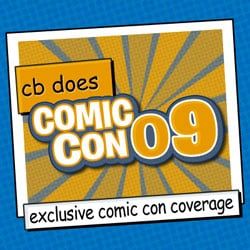 There has been a lot of discussion Futurama's return to television with a with a new voice cast. And here at Comic Con in Ballroom 20, anticipation was building about how it would be handled during the Futurama panel. The answer is… not so much.
The panel started with Hypno Toad telling us that there was no problem at Futurama and everyone should ignore the fact that there were no actors on the panel. Matt Groening came out and started with a serenity prayer type thing that included loving thoughts to both the Futurama actors and Fox execs. The basic point of the whole panel was that the writers and producers didn't have any problem with the actors and hoped they would be part of the show soon.
Seemingly to kill time, there was a fake behind the scenes featurette shown that tried to convince us that Lauren Tom does everything on the show (writer, producer, music, all the voices). It was pretty funny. It seems like something that they just took off one of their DVD's and maybe they did.
A joke that fell really flat involved the writers reading note cards of mildly amusing things which were said in the writers' room over the year. It took about 10 minutes and while not as unfunny as anything on The Cleveland Show panel, it wasn't great.
During the question and answer, they let loose some plot points of upcoming episodes, assuming they ever record them with voice actors.
These include:
Fry goes into the future in a time machine that only goes forward. He can't go back so he keeps going forward trying to find a time machine that goes back.


A parody of Prop 8, with Bender and Amy wanting a robosexual wedding. There is a Prop Infinity attempt to stop them.


Zack and Leila will be stranded on a planet.


Mom controls Twitter in the future.


Co-Creator David X. Cohen says that the tv show would have "literal rebirth" and we should hide our eyes when it comes.


Zoidberg and the Professors original meeting, where you see why Zoidberg was hired.
Cohen ended the panel with a comment about everyone keeping their fingers crossed and hoping for the best as it relates to the actors.
Your Daily Blend of Entertainment News
Thank you for signing up to CinemaBlend. You will receive a verification email shortly.
There was a problem. Please refresh the page and try again.