Comic Con: Stargate Universe Panel Releases Details From Season Two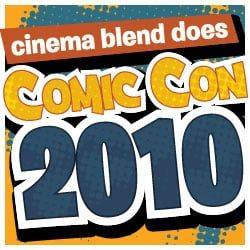 If you're a fan of the science fiction genre, there are few places better to be than San Diego Comic Con. Every franchise you have ever known and loved is represented in some fashion, be it a panel, an exhibition booth or just somebody dressed up as their favorite character, and Stargate is no exception. With the second season of Stargate Universe set to kick off in September, creator Robert Cooper and stars Robert Carlyle, Alaina Huffman, David Blue, and Ming Na were all on hand at Ballroom 20 to talk about the upcoming season, premiere a new trailer and answer fan's questions.
For starters there is the matter of the trailer, which you can actually watch yourself in the next 24 hours by going to the Zune Market Place.
But now for the nitty-gritty. Here is a bulleted list of everything revealed from the panel:
Eli, played by David Blue, gets some lovin' in the next season. According the Blue, he approached Cooper and asked "When is Eli going to get lucky?" Cooper responded, "How much more lucky can you get?" Blue's response? "More lucky." While he did his best to avoid spoilers, it was revealed that he becomes involved with someone from the Lucian Alliance
Carlyle, who plays Nicholas Rush on the show, will be directing one of the episodes next season titled "Pathogen". The episode is the first time that Carlyle has directed anything outside of the theater.
This next one is a bit of a SPOILER so be warned: during season two, Rush discovers the bridge of Destiny but doesn't tell anybody about it
In the upcoming episode "Twin Destinies," Rush meets himself from the future to who tries to prevent a catastrophic incident that puts everyone's lives in jeopardy.
Robert Picardo and David Hewlett, who played Richard Woolsey and Dr. Rodney McKay on Stargate Atlantis, will be returning. During that stint, Adam and McKay are going to get into a fight
When asked if the furlings would be coming back, Cooper said that you will have to keep watching, adding "How do you know you haven't seen them?"
In the second season Eli begins to take on more responsibility and actually gets fed up and pissed during the season. According to Blue, Eli grew a lot in season one, and does so four times as much in season two.
In an episode titled "The Greater Good," there is a major confrontation between Rush and Young where they realize that, if things keep going as they are, they will be stuck together until one of them dies so they might as well try and get along.
Overall, the crew sounded more than ready to jump back into the next season. It all kicks off on September 28 so be sure to tune in!
For more complete Comic Con coverage go here.
NJ native who calls LA home; lives in a Dreamatorium. A decade-plus CinemaBlend veteran; endlessly enthusiastic about the career he's dreamt of since seventh grade.
Your Daily Blend of Entertainment News
Thank you for signing up to CinemaBlend. You will receive a verification email shortly.
There was a problem. Please refresh the page and try again.