Community Gets Two New Showrunners, Dan Harmon Reportedly Given Consulting Producer Title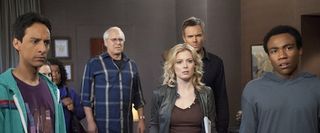 While we can celebrate the fact that Community will return for a fourth season, there is a fair amount of fine print that comes with the NBC comedy's renewal, like the fact that the series has been moved to Fridays, and that Season 4 will consist of a modest thirteen episodes. Oh, and then there's the matter of Dan Harmon no longer being showrunner. Wait. What timeline are we really in here?
TV Guide is reporting that Moses Port and David Guarascio of Just Shoot Me! are stepping in to replace Dan Harmon as the new showrunners of Community. In addition to Just Shoot Me, their credits include the short-lived CW series Aliens in America and a number of pilots. They've also done some consulting work for ABC's Happy Endings. TV Guide's sources say Harmon signed a one-year deal with Community producer Sony Pictures TV last year, which is now apparently up. And it looks like he's been set up with a "consulting producer" title, though who knows exactly how much involvement that position will entail, assuming he accepts the job?
I'm all for trying to find an optimistic approach to news like this, but from what TV Guide is reporting, it really doesn't sound good for the show. Here's where the situation looks especially grim (no NBC pun intended)…
My biggest concern here is the most obvious one. Is there any way to "broaden" Community without stripping away everything that makes it so unique and brilliant? Can Community even really be Community without Dan Harmon running things? I think Joel McHale summed it up pretty perfectly when he said, "Dan's the creator of the show, the voice of the show, so I don't know how that would work without him."
TV Guide goes on to note that while this issue was going on before the well publicized feud between Harmon and Chevy Chase, that situation likely didn't help the matter. The site also reports that outside producers had to be brought in to run the series because Neil Goldman and Garrett Donovan are both moving on to other projects. So it's not even like someone closely connected with the comedy is stepping up to fill Harmon's shoes. Port and Guarascio both have plenty of experience in television, and their involvement in Happy Endings is certainly a plus on their resumes in my book. All the same, it's hard to think of Community without Dan Harmon running things.
Is it an overreaction that the tea-kettle-like noise Abed makes when something seems very wrong is ringing in my head right now?