Conan Highlights: Soul Food With Deon Cole, And Rebecca Romijn's Erotic Dream About Steve Martin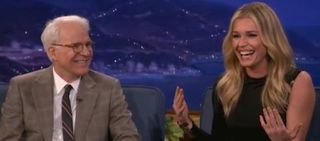 Last night's episode of Conan was like the perfect storm of funny and entertaining. This is to be expected when someone like Steve Martin drops by, but then factor in puppies, hamsters, Rebecca Romijn talking about Steve Martin's starring role in what sounds like an R-rated dream, and top it all off with a performance by Cake. Needless to say, Conan's week ended on a high note.
I love the segments that have Conan venturing away from the studio. Whether it's seeing him out of his suit, or just watching how he interacts with people, Conan adventures are usually good for a laugh. Last night's episode featured a segment that Conan going out to lunch with writer Deon Cole. They visited a soul food restaurant in Englewood and chowed down on some delicious looking pork chops, catfish and enough gravy to bathe in.
Here's Rebecca Romijn explaining to Conan and Steve Martin that her "womanhood was awakened via dream" by Steve Martin...
But really, this was a top notch episode from start to finish, so if if you want to watch the whole thing, which includes more of the interviews with Steve Martin and Rebecca Romijn, as well as Cake's performance check it out below...