Cowell May Recruit Abdul And Cole For US X-Factor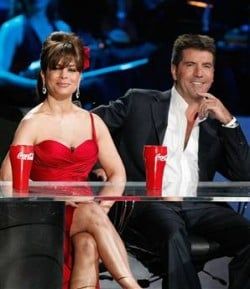 Simon Cowell may be looking to put the band back together when The X-Factor premieres on FOX in 2011. He is reportedly in talks with both Paula Abdul, who judged alongside him on American Idol until this season, and Cheryl Cole, who does so currently on The X-Factor in Britain, according to <="" the="">. This would create an instant chemistry on the panel, as well as an instant threat to American Idol's dominance of the US ratings.
When Abdul first quit American Idol, Cowell was already looking to bring The X-Factor to the US. From that moment, I knew that if he was able to do so, he would want to get Abdul on it. The two shared a great chemistry on Idol, and were the two most popular judges, particularly the sparring they got into. He shares a similar rapport with Cole, who is a huge recording sensation in the UK. She's also a current recording artist and 26 years old, meaning she can connect to and understand the younger demographic perhaps better than Abdul and even Cowell.
A gig on X-Factor would allow Abdul to prove herself to critics who've criticized her lack of constructive criticism while on American Idol. The format of The X-Factor has the judges taking a more active role in the competition, mentoring a group of singers during the competition.
I'm a little skeptical that America will support both American Idol and The X-Factor at the same time with the kinds of ratings figure Idol has been getting. In the UK, The X-Factor replaced Pop Idol. It is currently their annual ratings sensation. FOX intends to run The X-Factor in the fall, keeping Idol for the spring. They'd better hope Ellen DeGeneres is a hit this season, and that whoever they find to replace Cowell next year is just as great, because he may just be putting together the "dream team" of judges right now.
Your Daily Blend of Entertainment News
Your Daily Blend of Entertainment News
Thank you for signing up to CinemaBlend. You will receive a verification email shortly.
There was a problem. Please refresh the page and try again.