Cycle 10 Of Top Model Brings Changes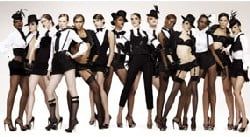 If it already seems like forever since Saleisha became America's Next Top Model, then you're crazy because it was only a month ago. But if you just can't wait to find out who will become the next America's Next Top Model (to star in infomercials and Chili's ads), then there's good news for you today. ANTM Cycle 10 is set to premiere February 20.
The reality show that Tyra built has a few changes in store for its tenth season. Since Ms. Banks moved her talk show to New York, ANTM is making the cross-country trip as well. While most of the familiar faces are going East with the show, one will not. Paulina Porizkova is replacing Twiggy on the judging panel. As for the show itself, you can expect much of the same: Leggy girls running around and fighting over whose turn it is to do the dishes.
Here's the rundown of the newest hopefuls:
Aimee, 18, hostess, Spanaway, Washington
Allison, 19, hostess, Waunakee, Wisconsin
Anya, 19, retail sales, Honolulu
Atalya, 18, student, Brooklyn
Claire, 24, production coordinator, New York
Dominique, 23, receptionist, Columbus, Ohio
Fatima, 22, student, Boston
Katarzyna, 22, finance, Roslyn, New York
Kimberly, 20, customer service, Worcester, Massachusetts
Lauren, 22, artist, Brooklyn
Marvita, 23, retail sales, San Francisco
Stacy Ann, 22, student, Miami
Whitney, 20, student, Atlantic Beach, Florida
And just because it's my favorite reality TV moment ever, here's a clip from Cycle 4 in which Tyra flips her weave.
Your Daily Blend of Entertainment News
Your Daily Blend of Entertainment News
Thank you for signing up to CinemaBlend. You will receive a verification email shortly.
There was a problem. Please refresh the page and try again.