Da Vinci's Demons Gets An April Premiere Date At Starz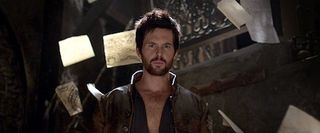 "Historical fantasy" would probably be a fair description for Starz' Spartacus, so it seems only fitting that the next new series for the premium cable network would be described as such bit its own creator David S. Goyer. Starz has set the premiere date for Da Vinci's Demons, a "historical fantasy" series that focuses on the life and adventures of the great Leonardo Da Vinci. Until now, we only knew to expect the drama this Spring, but Starz announced the premiered date this weekend. It's set for Friday, April 12 at 10:00 p.m. and will moved to 9:00 p.m. the week after the series finale of Spartacus: War of the Damned.
Da Vinci's Demons comes from David S. Goyer (FlashForward, The Dark Knight Rises), and stars Tom Riley as Leonardo Da Vinci, who's about 25 years old at the time of the series. THR reported some of Goyer's comments from the TCA this weekend, including word that the series would be "80-85 percent" historically accurate, which means the other 15-20 percent is probably where the fantasy is.
And it sounds like his experience with The Dark Knight Rises may come in handily, as Goyer says Da Vinci is "kind of Superhero-y" when you consider all of the legends and tall tales that have been told about him. It should be interesting to see what the show does with the story and how it works as a drama series.
Meanwhile, I'm a little unclear on the premiere date as it pertains to Spartacus. THR says the show will premiere at 10:00 p.m. on April 12 then move to 9:00 p.m. a week later when Spartacus vacates the time slot following its series finale. The thing is, Spartacus: War of the Damned is set up for ten episodes as far as we know, and premieres January 25. Unless there's a gap between episodes or they're adding two more eps of Spartacus (we haven't heard anything about that), that would put War of the Damned's last episode at March 29, not April 12. Either way, it definitely makes sense to piggyback Da Vinci's Demons with Spartacus, not only because the latter is a popular show, but it also happens to deal with a legendary historical figure.