Damages Launches Its Final Season This July On DirecTV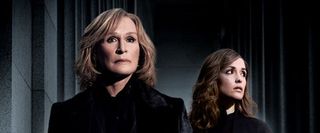 The only reason many people ever even realized that DirecTV had its own network was because of its high-profile rescue of two struggling series: NBC's Friday Night Lights and FX's Damages. Both were critically acclaimed but weak in the ratings, and DirecTV's intervention earned them seasons they wouldn't have gotten otherwise. Now, however, DirecTV's Audience Network is moving into a new phase with a focus on original programming, and Variety reports that Damages will launch its fifth and final season beginning July 11th on the Audience Network.
Created by Glenn Kessler, Todd A. Kessler, and Daniel Zelman, Damages stars Glenn Close as ruthless lawyer Patty Hewes and Rose Byrne as her protege, Ellen Parsons. Each season tracks the ins and outs of a single case being represented by Hewes & Associates. The series examines both the perspective of Hewes' legal team and the machinations of their opponents in the case, while also focusing on the often turbulent relationship between Parsons and her mentor. Over its four previous seasons, the show has courted an amazing line-up of guest stars, including William Hurt, Ted Danson, Lily Tomlin, and John Goodman.
The show has won several Emmys and tons of critical acclaim, but it has never really penetrated into the pop-culture conversation to a significant degree, which is a shame. We've all seen more than our share of legal dramas come and go over the years, but Damages is truly something special. If you're intrigued and want to give the show a shot, Netflix (opens in new tab) has the first three seasons of the show available for streaming.
Your Daily Blend of Entertainment News
Your Daily Blend of Entertainment News
Thank you for signing up to CinemaBlend. You will receive a verification email shortly.
There was a problem. Please refresh the page and try again.