Dan Fogelman Comedy Pilot Lands At ABC, Finds Star In Jami Gertz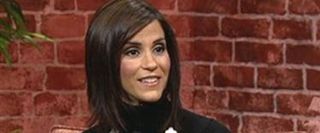 Cars writer Dan Fogelman has had a pretty good run in the movie world in recent years. Forgetting the monstrosity that is Cars 2, Fogelman is the genius behind 2010's Tangled and this year's Crazy, Stupid, Love. More recently, Fogelman wrote the screenplay for My Mother's Curse, an upcoming movie featuring Seth Rogan. As it turns out, the man is not content to simply continue churning out in the screenplay format. Instead, he has a new project in the works over at ABC.
The currently untitled single camera comedy follows a family who moves into a gated community in New Jersey, only to sniff out that something is awry. That "something" turns out to be the family has moved into a veritable hub for aliens. According to Deadline, ABC has already panned out some casting for the pilot. Jami Gertz is set to star as Dennie Weaver, the mom of the human family. With those arched eyebrows, I almost expected her to play one of the aliens. Wilt Chamberlain, the head alien in the subdivision, will be played by Simon Templeman.
Additionally, the entire head alien family has been fleshed out, with Tim Jo playing alien son Joe Montana and Toks Olagundoye playing alien mom Jackie Joyner Kersee. Although, I'm not a fan of the pop culture alien names, I'm pretty excited to see if the new show will make it to series. I'm kind of a sucker for an aliens among us plotline, and I think Dan Fogelman is great. TV Blend will keep you posted when this ABC project gets an official title.
Your Daily Blend of Entertainment News
Thank you for signing up to CinemaBlend. You will receive a verification email shortly.
There was a problem. Please refresh the page and try again.