Dave Chappelle Jokes He's '7 Years Late For Work,' Talks Choices On Letterman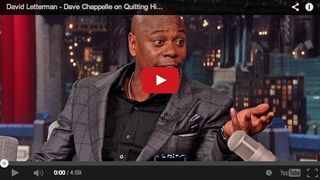 Once upon a time, Dave Chappelle had an increasingly popular Comedy Central TV show and a bright future at the network. And then in 2005, partway through production of the third season of Chappelle's Show, the comedian up and left, heading off to South Africa and walking away from a very big deal with Comedy Central in the process. This week on Late Show with David Letterman, Chappelle opened up a bit about his abrupt departure from Chappelle's Show.
"Here it is," he said, when Letterman addressed the topic of his Comedy Central series. "Technically, I never quit. I'm seven years late for work." He's joking there, obviously, but he does get a bit more serious when he admits he made a "series of decisions" when he walked away from the deal and massive amount of money he was being offered by Comedy Central to continue to the show.
"Money is the fuel for choices," Chappelle said to Letterman. "Money gives me choices. So that's not nothing. It's something. I could choose where I want my kids to go to school. I can choose where I want to eat in a given day. But it's not the end all be all. There are other things in life that I cannot purchase with money that are very valuable."
With the above said, Chappelle says -- possibly jokingly -- that he might be a happier person if he'd gone for the money.
Looking back to 2005 when Dave Chappelle seemingly disappeared at the height of the comedian's popularity, fans may recall feeling confused and even disappointed over the whole situation. As a fan of the show, it was frustrating, not knowing what was going on at first or why he just up and left soon after signing a reported $50 million deal with Comedy Central. Of course, there was also concern about Chappelle's wellbeing, given the abruptness of his exit from the spotlight. Chappelle's recent interview with Letterman doesn't fill us in on much as to what caused him to abandon his career right when it was blowing up. But it does point to a very simple truth; money is a lot, but it isn't everything.
Of course, those of us who aren't being offered millions of dollars to do a job we're really good would question Chappelle's decision to walk away from such a deal and deflate all of the momentum his career was generating in the process. But who knows what he was really going through when he made those decisions? Maybe it was just too much for him. Maybe the reality of his life and work at that point in his career just wasn't what he wanted. He certainly wouldn't be the first performer to be negatively affected by fame and success. Some choose to walk away, others don't.
In Chappelle's case, walking away from it all might have been the best possible thing he could have done for himself and his family if he wasn't happy or felt out of control, or whatever his personal reasons actually were. We can really only speculate. And from the sound of it, Chappelle can only speculate too. He made a choice -- or a series of choices -- and all he can do now is know the outcome of the ones he made, not the ones he didn't.
"I don't know," he said, when Letterman talked to him about being a happier or better person for the choices he's made. "There's no way of knowing. But you know, sometimes i listen to a Jay-Z record and I start feeling bad about the choices I've made. This guy's having more fun on two songs than I've had in the past eleven years."
Your Daily Blend of Entertainment News
Thank you for signing up to CinemaBlend. You will receive a verification email shortly.
There was a problem. Please refresh the page and try again.