Deadwood's Paula Malcomson Cast In Showtime's New Drama Pilot Ray Donovan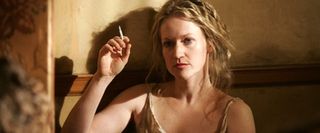 Showtime has cast the female lead for their new pilot Ray Donovan, and it will be a familiar face for Deadwood fans. Paula Malcomson will appear opposite Liev Shreiber in the pilot set in Hollywood that, from what I can gather can be best described as a dark family dramedy.
Deadline reported that Malcomson is on board to play the wife of the title character, Ray, who will be played by Shreiber. Her character is a Boston native who is adjusting to life on the West Coast and dealing with the issues of her family. Meanwhile, Ray Donovan is LA's top problem solver, the guy the rich and powerful turn to when something needs to be covered up, fixed or otherwise cleaned up. What he can't manage to fix are his own family's problems.
Showtime does love plenty of darkness it its series, and has generally done a good job of creating shows with the right balance of that dark edge and the laughs needed to keep the show from feeling too mired in the dark. Southland creator Ann Biderman is the creator and executive producer behind the new series, and Alan (sometimes spelled Allen) Coulter is on to direct – his credits include Boardwalk Empire and The Sopranos.
Malcomson, who has also appeared in Caprica, Sons of Anarchy and ER has also got a movie career well underway. She's co-starring in the much-anticipated movie adaptation of The Hunger Games, which promises to keep her busy for a while. The first in the franchise is set to premiere in March.
Your Daily Blend of Entertainment News
Thank you for signing up to CinemaBlend. You will receive a verification email shortly.
There was a problem. Please refresh the page and try again.