Desmond Harrington Will Reprise Uncle Jack On Gossip Girl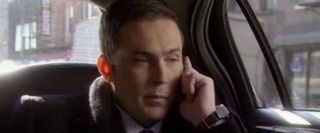 Jack always seems to make the name of a good villain, or at least an unlikable rascal, as is the case of Gossip Girl's Uncle Jack (Desmond Harrington). If you can remember all the way back to the last couple of seasons, Uncle Jack is the devious relative who tried to become of Chuck Bass's (Ed Westwick) guardian after Chuck's father died in a car crash. It was all in the attempt to take over control of Bass Industries, and it ultimately failed. We haven't seen much of Uncle Jack in Season 5; however, that is all about to change.
Gossip Girl executive producer Josh Safron has stated that Desmond Harrington has scored another go as the devious Jack on a few upcoming episodes of the hit CW program. According to TV Line, Harrington will be back for the last third of the season. Quite shockingly, his tenure will not be marked by scheming, as Saffron has been quick to state Chuck and his Uncle will be on good terms.
That's a pretty big shocker, one that is perhaps not as strange as the fact Uncle Jack's upcoming storyline is expected to be comedic. Saffron spoke out more about Harrington's particular role in the later part of the season:
Gossip Girl has always been viciously humorous, but with Chuck and Jack getting along, I honestly have no idea what to expect. However, if there is a little mystery to get into, that's enough of a plot pull to get me interested. Are you excited about Jack's return? Sound off in the comments below.
Your Daily Blend of Entertainment News
Thank you for signing up to CinemaBlend. You will receive a verification email shortly.
There was a problem. Please refresh the page and try again.