Desperate Housewives Recap: Don't Walk on the Grass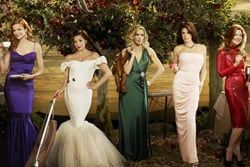 I'm not sure what word is okay – but the word "lover" has always seemed creepy and outdated to me. But this is exactly the word that Bree throws all over the place about Carl. Ick. Bree is starting to fall for Carl, so she decides it's time to break it off. But as she tries to tell him, he gives her his Grandma's brooch – a token of his "love". He even utters that three word phrase, and totally melts her heart of stone – until she finds out that he gave it to Susan years ago. She attempts to break it off again – and he proposes! She agrees to think it over if he becomes the man he says he "could" be if she married him. And no sex for 30 days.
Last week, Susan accidentally shot Katherine in the shoulder. Yep, shot – like with a gun. Because it happened to be with Angie's gun, Angie encouraged Katherine to "take the high road", so Kat runs over to Susan's and forces her to go to brunch with her. Katherine runs over to Angie and thanks her for the advice. She then goes on to ask what she should do next. Angie explains that they aren't partners. Katherine blames Angie's attitude on her dead mother's impending birthday- and seems just a little crazier than she usually does. I loved Katherine before they took her for a ride on the crazy train – she and Mike were so much better than Mike and Susan ever were.
Lynette is awakened by what sounds like her teenage son (the one that is still around) and his buddies coming home late – and drunk. Turns out it's T-Scav (that's Tom) and his way younger college buddies. Lynette caves and lets the drunk morons stay at their house. Later when Gaby is begging for school supplies, she notices that Lynette's clothes are getting a little tight – and tells her to work out. Just then a call comes in about a party – and Lynette runs over to pull Tom back to reality. But he's not there – he just dropped off the keg and left. Apparently he's been buying answers to the tests, and this is how he's paying his "friends" back. They have a big confrontation over his cheating – and he calls her out on her lying. Neither is going to win Parent of the Year - but they are right, there are times that breaking the rules isn't the worst thing in the world.
Back to Katherine, she calls for a plumber just as Mike and Susan were getting a little lovey-dovey. Susan's not buying it, and she tags along to keep her man safe. And it's a good thing she did, because Kat had turned her house into a love nest. Susan wrestles with her and they end up in the bubble bath.
Gaby's stuck homeschooling Juanita after the little lovely spouts a four-letter word when she can't get her lines right for the school play. Oh, don't worry, Juanita was only going to get a small suspension until Gaby cussed out the principal – now no school will have her. It goes about as well as expected…
For some reason, Angie is wearing a robe a la Mrs. Roper – and calling her supposedly dead mom on a prepaid cell phone. Hmmm…she has to cut the call short when she sees Katherine standing behind her in the mirror. Katherine, of course, questions her on the dead mom thing – but Angie covers by saying it was Nick's mom. Katherine wants to borrow the gun from the shooting – but Angie tells her no. Later, Angie warns Susan that Katherine is crazy, and puts the seed of doubt about Katherine maybe being Julie's attacker. Going so far as to suggest maybe Katherine thought it was Susan she was choking…
Coveting, betrayal, lying, cheating – it's all the same, right? I guess it depends on which side of it you're on…like when Orson realizes that Bree did NOT get the brooch from the antique shop down the street…
Your Daily Blend of Entertainment News
Thank you for signing up to CinemaBlend. You will receive a verification email shortly.
There was a problem. Please refresh the page and try again.