Desperate Housewives Recap: Nice Is Different Than Good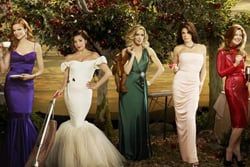 It's time for Desperate Housewives to start again, and who knows where this season is going to take us! At the end of last season, Susan & Mike were making out after he saved her, Tom & Lynette found out they were having twins, Gaby & Carlos had his teenage cousin living with them, Carl & Bree were about to engage in an affair, and Katherine was devastated by Susan & Mike. This year there's a new family in town, toting an angst-ridden teenager who clearly has done something bad – thus, they have to move to a new town. I love Drea De Matteo, and I'm thrilled to see her on the show.
So, who the heck is Mike marrying? Susan. Damn. I hate Susan and Mike together. Katherine is much less annoying. Mike doesn't see it that way, though, and he and Susan are getting hitched right at the beginning of the show. Katherine isn't too happy, and she shows up in a bright red dress, looking like she wrassled with a bear before she showed up. Mary Alice reminds us that sin is alive and well in the suburbs and we jump right into the show.
Carl and Bree are on the verge of consummating their flirtation on the couch in his office, but she puts on the brakes. She insists that if they are going to do this, it's going to be somewhere nice. She continually blocks him and makes excuses. He finally gives up on her and wishes her the best when she forces him to buy new sheets and bedding for the motel he took her to. I understand that Orson is a douche, but really there is no way that Bree should even be considering sleeping with Carl! Carl of all people – Susan's ex, who has been married at least once before, and nearly married Edie! Orson finds her at church and begs her to go to counseling. She declares there is no way they are getting back together and actually pursues Carl and sets up a rendezvous. I hate cheaters…no excuse – EVER.
Lynette is buried in a pit of despair, and Tom can't seem to get that she really really really doesn't want to be pregnant. Tom's growing excitement irritates her, and she confesses at the ultrasounds that she doesn't love the babies. At 42 years old, she is dwelling on the fact that she will be 60 when they graduate and is having a hard time holding herself together. Tom assures here that they will be fine, and she WILL love these babies as much as the others.
Susan is terrified of Katherine, because although it seems Katherine is taking the high road, in fact, Katherine is bordering on psychotic by the end of the episode. You'd think the pinnacle would be when Katherine signs for Susan's dress and then puts it on. That's right – puts it on. She makes some yummy pasta sauce all while wearing the dress. Yikes. Yeah, you'd think that would be the heights of craziness, but when Katherine shows up in the bride's dressing room, Susan realizes the sauce was just the start. Kat demands that Susan give her a public apology – and says that what hurt her the most was that Susan never even came to check on her. Susan shoves her in the closet and locks the door. Ouch. We then see why Katherine looks a little frazzled when she shows up at the altar – busting a door down will do that to you every time. This is where we meet up with the start of the show. Mike threatens to drag Katherine out of the church himself, but Susan goes ahead and makes that apology. Kat is NOT satisfied, and you can bet your honey buns that this isn't going to be over anytime soon.
We really don't see much of the new family, except that the crazy son has targeted Julie for whatever it is he's going to do. He asks her to tutor him and asks her out on a date. His dad makes a move on Julie and seems slightly creepy. Drea's character seems to make fast friends with the ladies of Wisteria Lane and even attends the wedding. The son is not at home after the wedding, and Drea sends her husband out to look for him as she gets ready for bed. She's got some crazy wicked burn scars on her back!
Mary Alice again reminds us that sin is everywhere, but worse than sin is pure evil. As Julie takes out the trash, someone comes up behind her and strangles her. She seems to be dead as the person responsible runs off. Is it the angst-ridden teenager, or his creepy dad who hit on her earlier? Stay tuned…
Your Daily Blend of Entertainment News
Thank you for signing up to CinemaBlend. You will receive a verification email shortly.
There was a problem. Please refresh the page and try again.