Dexter Could Get A Ninth Season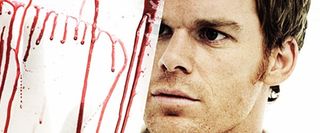 Showtime's serial-killer-with-a-heart series, Dexter, has had a good run. An uneven run, to be sure, but the show has in some ways tried to reinvent itself each season, and when it's works, it's great, gripping television. With the show about to launch its seventh season this September, Showtime had previously signed star Michael C. Hall on for two more seasons, which would bring the series up to a total of eight. Now, however, an interview with a Showtime exec suggests that the show might continue on for a ninth season after all.
Last November, Showtime entertainment president David Nevins said that the eighth season would likely be the end of the road for Dexter and company. Speaking recently to TV Guide, Nevins seems to have changed his tune. While there's still no official decision on the show continuing past season 8, Nevins says that the network is leaving the door open for that possibility.
So, what changed Showtime's mind? Nevins says that the possibility of continuing came out of some of the upcoming season's "game-changing" storylines. He specifically mentions the fallout from last season's final scene, which featured someone close to Dexter discovering his secret, namely that he's a serial-killing vigilante who only preys on bad guys.
Warning: Spoilers for the end of Dexter's last season and the upcoming seventh season.
Nevins explained how the shocking twist last season will ripple out through the upcoming season.
I'm excited to see what the new season of Dexter has to offer. The twist of Deb discovering Dexter's dark passenger was something the show would inevitably have to address in some way, but watching both her and Dexter deal with the fallout of that moment should give the show a new energy that it's occasionally lacked these past few seasons. It's also exciting to hear that Chuck actress Yvonne Strahovski is joining the cast this season, Should the show get a ninth season? At this point I'm not sure. Deb's discovery of Dexter's nature is rich with storytelling potential, but is it enough to carry the show on for three more seasons? I'm not convinced of that, so hopefully the writers will be able to come up with stories that will keep us tuning in. If they can't succeed at that, then just let the show bow out gracefully at the end of season eight.
Dexter returns to Showtime on Sunday, September 30th at 9/8c.
Your Daily Blend of Entertainment News
Your Daily Blend of Entertainment News
Thank you for signing up to CinemaBlend. You will receive a verification email shortly.
There was a problem. Please refresh the page and try again.