Dexter Ready To Kill On CBS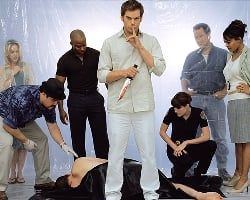 Move over, CSI. You're not going to be the bloodiest show on CBS for much longer. Dexter, the Showtime series about an affable serial killer is coming to the Eye network in February. According to Zap2It , the series, which just completed its second season on Showtime, will be airing its first season on CBS beginning February 17 at 10:00 pm. Each episode of the season will air consecutively for the following eleven weeks.
While Dexter has garnered much critical acclaim since its premiere, not many people other than critics have actually seen it. November 18th's episode shattered Showtime's ratings records with only 1.23 million viewers. Moving the drama to CBS gives millions of people the opportunity to catch a show that they otherwise never would have. Showtime Entertainment President Robert Greenblatt says of the move, "We're thrilled to have the chance to expose Dexter to a wider audience on CBS. I think it will be very compatible with their lineup as well as be a great opportunity to promote our brand on a platform that reaches every home in America."
Other premium cable shows have made the jump to non-pay channels, most notably HBO's The Sopranos and Sex and the City. Dexter, however, is the first of its kind to make it to network primetime (Sopranos and SATC are relegated to basic cable). The R-rated content of such shows has been cited as a reason for keeping them on non-FCC governed cable, but with the writers strike effectively torpedoing the current TV season, networks are scrambling to fill the space. Dexter may be about a serial killer, but blood and gore have been long accepted on network television. For proof, you need look no further than the wild success of the aforementioned CSI franchise.
While the violence may not be much worse than other primetime series, there is definitely much fouler language. The benefit of putting pay cable shows on basic cable is the ability to leave some of the curse words in. While you still can't drop the f-bomb on FX, words like the previously verboten "shit" are constantly flying around. Dexter's language is going to necessitate pretty heavy editing in order to pass by network censors. My hope is that they either had enough foresight to shoot "clean" alternate scenes or at least just mute the curse words out. While changing a line in a television airing of The Usual Suspects to "Give me the keys, you fairy godmother!" is kind of hilarious, twelve episodes of such inventive invectives will just become grating.
With game shows and reality TV clogging network primetime this winter, it will be nice to have a quality "new" show on the air. Dexter has consistently been nominated for awards, including Golden Globes, Emmys and SAG awards. Dexter's move to CBS will not only allow the general viewing public to finally see what all the fuss is about but will also serve as a reminder of just how good TV can actually be.
Your Daily Blend of Entertainment News
Your Daily Blend of Entertainment News
Thank you for signing up to CinemaBlend. You will receive a verification email shortly.
There was a problem. Please refresh the page and try again.