Dig Review: USA's New Drama Is Complex But Intriguing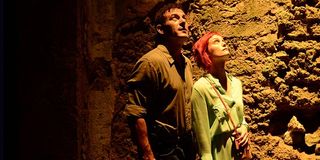 A mysterious stone, a set of connecting tunnels hidden beneath Jerusalem and a cult hidden in broad daylight in the desert are all facets of Dig, USA's thrilling new action series. The latest show from Heroes' Tim Kring and Homeland's Gideon Raff offers a unique setting and intricate storytelling—hallmarks of both men's work. Unsurprisingly, the series kicks off with a bang, as well.
Dig stars Jason Isaacs as an FBI agent named Peter Connelly who is stationed in Jerusalem. Early on, Peter is introduced to an archaeological dig beneath the city that becomes the focal point of the series following a subsequent murder. It's rare for US audiences to encounter a series set in Jerusalem and just as rare to see a murder mystery focused around an archaeological dig. But Dig is no procedural. Instead, the murder is a catalyst to connect to a bigger conspiracy, one that affects both Christian and Jewish factions in places as distant as Jerusalem, Norway and the New Mexican desert. The conspiracy Connelly stumbles upon has been in the works for 2,000 years.
Obviously, with a storyline so wide-ranging and a mystery that relies on more than the dead young American woman who kicks off the story, the plot does get convoluted. Regardless, Dig isn't striving to be a simple crime procedural, and the tangled web the series is weaving has enough interesting threads to be engaging. It's a little bit like Lost in that way, although I'm unsure that an archaeological dig setting will easily suck in large numbers in the same way a plane crash did.
There's one thing for certain: Jason Isaacs was born to play an action hero. Following a lengthy run in the Harry Potter movies, the actor took a stint on Awake, another crime drama with an interesting bent. The show ended up getting canceled by NBC at the end of the season, but Isaacs was clearly a standout as a cop on a mission, and he's even more in his element with Dig, running around, finding clues and getting into life and death situations.
The rest of Dig's cast is also notable. Anne Heche is signed on as Lynn Monahan, Peter's exasperated boss at the FBI who has a complex relationship with her underling. As the story switches from Jerusalem to the United States, Six Feet Under actress Lauren Ambrose gets to play a marginalized and harried member of a cult while Suits' David Costabile get to play a man who has amassed a large religious following and who has a secret overarching goal.
USA made the first few episodes of Dig available for perusal, and there are some shocking moments in the new drama, especially for a network that really isn't known for chancy storytelling. Tonally, Dig isn't close to the other programming USA has endeavored to produce in the past, including Suits and the recently ended White Collar. While pilot orders hinted at this, it's becoming clear that USA is attempting to head in a new direction with its storytelling. I have no idea if the network will be able sustain this more serious type of television, but it's nice to see the network taking a chance. Dig may not be an instant favorite with audiences, but there's enough to like about it that the series is worth taking a chance on.
Rating:

Dig premieres on USA on Thursday, March 5 at 10 p.m. ET. Ten episodes have been produced for the show's first season. To engage with the upcoming series, you can download the Dig Decoder App on IOS or Android.
Reality TV fan with a pinch of Disney fairy dust thrown in. Theme park junkie. If you've created a rom-com I've probably watched it.
Your Daily Blend of Entertainment News
Thank you for signing up to CinemaBlend. You will receive a verification email shortly.
There was a problem. Please refresh the page and try again.