Disney Channel's Descendants Casts Dove Cameron To Play Maleficent's Daughter Mal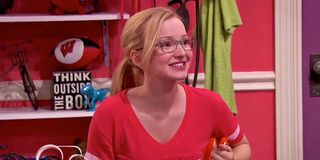 Well, that didn't take long. Less than a week after announcing that the casting process has begun in the new live-action Disney Channel movie, Descendants, comes word that Liv and Maddie star Dove Cameron has nabbed one of the coveted roles. She'll play Mal, the daughter of Sleeping Beauty villain Maleficent in the Kenny Ortega-directed TV followup to various well-known Disney movies
As we reported last week, Descendants is a planned TV movie centering on the offspring of a number of classic Disney characters. The story's setup involves Belle and the Beast's (Beauty and the Beast) son preparing to ascend the throne and deciding to allow the kids of a number of well known villains (Cruella De Vil, Maleficent, Jafar, etc) to enter the kingdom for the first time and attend the prestigious prep school attended by kids of various iconic Disney heroes. Among the hero offspring are the kids of Sleeping Beauty, Rapunzel and Mulan. Disney Channel says the TV movie, which is being directed by High School Musical's Kenny Ortega, will go into production next Spring (2014) and will most likely make it to air in 2015.
We knew that villainous descendants Carlos, Mal, Evvie and Jay were among the roles set to be cast, and today Variety reports that Dove Cameron has scored one of the named roles. Cameron has already begun to make a name for herself at Disney Channel, starring in the new family comedy Liv and Maddie, in which she plays the titular identical twins. We could argue that a starring role in Descendants would help bring more exposure to the new TV series, but considering the TV movie won't be out until 2015, it'll probably be the other way around, assuming things work out for Liv and Maddie and the show's still going strong by that point. In the meantime, to state the obvious, Cameron is beautiful. But can she play a mean girl? That is, assuming Mal's mean at all. Part of the premise of this TV movie is questioning whether these teens will follow in the evil footsteps of their parents or forge their own path. So it seems we'll find out. Regardless, it's also worth noting that Cameron can sing. Check her out in this Liv and Maddie music video "Better in Stereo"…
Cameron's casting is evidence that Disney Channel's open to tapping into their own pool of young talent, so we'll have to wait and see if any other familiar faces are cast in Descendants.