Doctor Who: The Big Surprise The Doctor Has In Store For River Song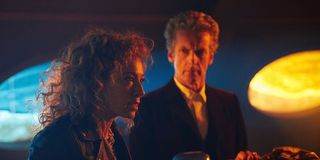 After a two-year absence from Doctor Who, actress Alex Kingston is reprising The Doctor's wife River Song next week for the 2015 Christmas special, titled "The Husbands of River Song." Having mostly been with Matt Smith's version of the Time Lord, this will be Kingston's first time alongside Peter Capaldi's Doctor, and while their particular rapport will no doubt be entertaining, the professor of archaeology will be in for a big surprise when he jumps back into her life. Unlike her previous encounters with The Doctor, this time around she won't know who he is at first, which will let The Doctor see her in a new light.
Although she's adventured with multiple versions of The Doctor during her life, River didn't know that the Twelfth Doctor even existed, according to showrunner and writer of the special Steven Moffat. So she'll be taken off guard. He elaborated:
Viewers have become well acquainted with the Twelfth Doctor since he began his regular role in Season 8, but for River, she's used to running into his Eleventh incarnation while he's adventuring across time and space. Because their timelines are out of sync, The Doctor and River almost always run into each other at different points in their timeline. While River has encountered younger versions of her Time Lord husband, this will be her first time meeting a post-Eleven Doctor. Since she's never seen him before, interacting with him will be much different than how she handles the more youthful-looking Doctor, and it will be interesting to see how she takes to his much-different personality.
After debuting during David Tennant's run as the Tenth Doctor and having multiple adventures with the Eleventh Doctor, River's last Doctor Who appearance was posthumously in the Season 7 finale "The Name of the Doctor," where her consciousness assisted in helping The Doctor and Clara against The Great Intelligence. For those keeping track of River's timeline, the special takes place after "The Angels Take Manhattan" (where she lost her parents Amy Pond and Rory Williams), but before her death in "Forest of the Dead," the second half of the two-parter where the Tenth Doctor first met her. River and Twelve will face off against King Hydrophlax and his robot bodyguard in "The Husbands of River Song," and the special will also see The Doctor heading to a destination he's been "avoiding for a very long time."
U.S. viewers can catch this year's Doctor Who Christmas special on Christmas Day at 9 p.m. EST on BBC America.
Your Daily Blend of Entertainment News
Connoisseur of Marvel, DC, Star Wars, John Wick, MonsterVerse and Doctor Who lore. He's aware he looks like Harry Potter and Clark Kent.