Doctor Who Comic-Con 2013 Live Blog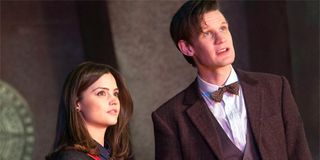 At San Diego Comic-Con there are few franchises that get people as excited as Doctor Who. Every year you can walk back and forth in front of the convention center and on the exhibit floor and see an endless number of fans walking around dressed as their favorite Doctor or companion. Naturally, the Doctor Who panel is one of the biggest presentations during the entire event, but this year is even more special than usual.
In case you hadn't heard, this year the long-running BBC series will be celebrating its 50th anniversary, and we expect the Comic-Con panel to pull out all the stops in commemorating the show. Stars Matt Smith and Jenna Coleman, lead writer and executive producer Steven Moffat, An Adventure in Space and Time star David Bradley, and writer/executive producer Mark Gatiss are all confirmed to be a part of this year's panel, and we can't wait to see what they have in store! Refresh this page often for all of our up-to-the-minute updates!
12:33 p.m.: The panel is starting! And we're treated with a Doctor Who remix by The Eclectic Method!
12:35 p.m.: Craig Ferguson is moderating the panel!
12:39 p.m.: Producer Marcus Wilson! Writer/producer Mark Gatiss! Adventure in Space and Time star David Bradley! Steven Moffat! Jenna Coleman! Matt Smith! All on stage!
12:41 p.m.: And now it's time for a recap trailer!
12:45 p.m.: Moffat talks about the grief in the last season, but defends the death of Rory and Amy – after all, they did live into their 80s. He says it's been the thrill and trip of a lifetime, and adores it even through it wrecks every day of his year.
12:48 p.m.: David Bradley says that he has long been a fan of the show and watched it every Saturday evening. The pub had to wait. He also adds that he has been getting quite a bit of hate due to his role in Game of Thrones and that wedding invites have dried up. And now a trailer for Adventure in Space and Time, which tells the story of the creation of Doctor Who!
12:51 p.m.: Moffat says that a lot of improvisation went into the 50th anniversary, but that there are a lot of elements that have been building towards it. It's about keeping it new and fresh.
12:52 p.m.: Smith says that he is excited for the future and that it's been a fabulous journey as the Doctor. He wants to make the Christmas special "a real belter."
12:54 p.m.: What of the unresolved sexual tension between the Doctor and his companion? Smith says that the Doctor is the same man, but comes with a different emotional makeup and is has different ways of looking at relationships. Coleman says that the character is a sexual, really.
12:56 p.m.: We are about to see a Comic-Con exclusive trailer that won't be shown anywhere else! Moffat says that if this video goes online there won't be anymore Comic-Con exclusives in the years to come, so nobody record it!
12:59 p.m.: Matt Smith and David Tennant together! Rose Tyler! John Hurt! It's going to be a very special time for Doctor Who fans! The crowd absolutely loved the trailer.
1:00 p.m.: Audience question time!
1:01 p.m.: Favorite scene from the season from the latest season? Smith cites the scene where Clara gets to meet the other Doctors, and Clara loved seeing the Tardis in the clouds with the spiral staircase.
1:02 p.m.: Any chance for The Doctor to come back to America? Smith says that he really wants to shoot the Christmas special in America. Doesn't look like that's going to happen. Moffat says if they come up with a great reason to come back to America they will. Mark Gatiss suggests an alien invasion at Comic-Con, and the audience loves the idea.
1:03 p.m.: Moffat says that he usually passes off the historical episodes, because he doesn't like doing any research. But there are some exceptions – like the Madame de Pompadour episode.
1:05 p.m.: Testing for the Doctor, what is the quality Moffat looks for? The Doctor always lives in the moment because if he were to look back he would be staring all day. He is every age at once – fun kid, crazy teen and grumpy old man all at once. Moffat praises Smith's ability to balance all of those levels. He would be surprised if he found out that he was the main character in a television show. He also says that they haven't found the new Doctor yet, so don't expect an announcement.
1:08 p.m.: Could John Barrowman's Captain Jack being comic back again? It's all about finding the proper story and way to bring him back.
1:10 p.m.: Coleman says that she has been amazed at the Doctor and companion costumes seen around Comic-Con. Smith says that when they see a Doctor and Clara on the street they've actually been saying hi.
1:11 p.m.: There is a big difference between US and UK fans – namely that US fans are much louder.
1:12 p.m.: Moffat says that he was thrilled to make "Asylum of the Daleks" simply because it was amazing to be in the same room with absolutely every kind of Dalek. Mark Gatiss was thrilled to get Dame Diana Rigg on the show – particularly the chance to put a giant red worm on her neck in the "Crimson Horror" episode.
1:14 p.m.: Matt Smith says that given the chance he would have loved the chance to play The Master. Jenna Coleman says that she wanted to play Strax. Steven Moffat wants to be the Doctor, which he's dreamed of his entire life. David Bradley recounts his time in the "Dinosaurs on a Spaceship" episode and says that he would have also loved the chance to play The Doctor.
1:17 p.m.: Ferguson points out that Americans in their 20s seem to like Doctor Who more than 20 year olds in the UK. Moffat says that may just be because of the scheduling of the show.
1:19 p.m.: Moffat says he writes the show for what he likes to watch and wishes he could wipe his mind and watch it how we watch it.
1:21 p.m.: Favorite River Song moments? Moffat says it was the moment that The Doctor actually kisses River instead of just being kissed (the first time ever in the show)
1:23 p.m.: Smith says that if he were to create hus own monster to fight, it would be big and have a good psychological aspect to it. Coleman wants one with multiple arms.
1:24 p.m.: Apparently Steven Moffat has a weeping angel in his garden, and they were thinking about having Smith go to his neighbor in costume and play a prank.
1:25 p.m.: Is there ever an episode where they think they've gone too far? Moffat says that the show is supposed to be scary and that many rate the episodes on how scary they are. That said, they don't have any gore – they just kill people discretely. They want to scare, not disturb.
1:28 p.m.: Sadly, we've come to an end of the Doctor Who panel, but get ready for a new episode on November 23rd!
NJ native who calls LA home; lives in a Dreamatorium. A decade-plus CinemaBlend veteran; endlessly enthusiastic about the career he's dreamt of since seventh grade.
Your Daily Blend of Entertainment News
Thank you for signing up to CinemaBlend. You will receive a verification email shortly.
There was a problem. Please refresh the page and try again.