Doctor Who: Will Jenna Coleman Continue As Clara? Here's The Answer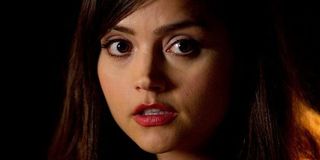 Warning: If you haven't watched the Doctor Who 2014 Christmas Special yet, there are absolutely spoilers ahead!
Whovians have been on quite a roller coaster over the past few months regarding the fate of the Doctor's current companion, Clara Oswald, and this year's Christmas special did all that it could to keep that roller coaster going for Clara's fans. After several close calls throughout the episode, the final few minutes revealed that Clara would be returning as the Doctor's companion for the entirety of Season 9.
Coleman spoke with TVLine about her future as Clara Oswald:
The show's Doctor/Companion dynamic certainly changed drastically at the beginning of Season 8, after Matt Smith's sweet and goofy Eleventh Doctor regenerated into Peter Capaldi's Scottish, angry-eyebrowed, sarcastic Twelfth Doctor. Even though the show hinges on transitions, with the changing Doctor and the changing companions, I am quite glad that we will get another season of Clara in the TARDIS.
Most of part two of Season 7 was focused on Clara being the Doctor's "Impossible Girl", being born to save the Doctor. For someone who was so interesting at her introduction in the episode "Asylum of the Daleks", her freshman season as an official companion was a bit disappointing. However, we were able to leave the Impossible Girl story behind in Season 8, and we got to know Clara as a person and a companion. I was pretty indifferent towards Clara at the end of Season 7, but now I've really grown to like her. She's clever, brave, and loving, and is the perfect balance to Twelve's new, crusty attitude.
Doctor Who certainly has a very different feel with Twelve and Clara versus Eleven and Clara. The awkward sexual tension between the two characters is mercifully gone, and they've finally been able to become brilliant friends. It certainly took Clara some time to figure out who Twelve really was, and who he was in relation to Eleven, but they have just started cultivating a really nice (slightly dysfunctional) friendship. Modern Doctor Who fans haven't seen a genuine Doctor/Companion friendship since Donna Noble (as there was even sexual tension between the Doctor and Amy Pond). While I love a good romance, the majority of regular companions (Rose, Martha, Amy, and Clara herself during Eleven's run) have had some kind of romantic entanglement with the Doctor, and I think we're due for a companion who is just a good mate.
Ultimately, I was very pleased with how the special ended. Clara will be traveling with the Doctor for the whole of Season 9, which is just the best Christmas present from the Doctor Who writers. More than that, I was also thrilled that we didn't get another incredibly tragic, Christmas-ruining special like we had last year with Matt Smith's regeneration--though I did notice the nod to Smith's final episode when Twelve helped old Clara with the Christmas cracker like Clara had helped Eleven when he was very old at Trenzalore. The special was the perfect mix of Christmas fun - Nick Frost was, unsurprisingly, a marvelously perfect Santa - and extraterrestrial adventure with no tragic Doctor/Companion goodbyes.
There isn't an official premiere date for Season 9 just yet, but filming for the season should begin early next year and will air for American audiences on BBC America. Welcome back, Clara!
Your Daily Blend of Entertainment News
Thank you for signing up to CinemaBlend. You will receive a verification email shortly.
There was a problem. Please refresh the page and try again.