Doctor Who? Meet Peter Capaldi, The 12th Doctor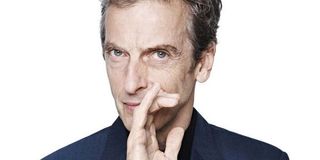 When Peter Capaldi was announced yesterday as the 12th Doctor, fans all over the world started shouting some seriously salty 4-letter words… but only because they were excited. Capaldi, who will soon become synonymous with the blue police box and time travel, is currently most famous for playing Malcolm Tucker, the incredibly foul-mouthed political adviser who first appeared on the British series The Thick Of It, created by current Veep show runner Armando Iannucci. The entire series of The Thick of It is available to watch on Hulu Plus right here.
When it came time for Iannucci and his co-writers to take their political satire to a feature film, they made Malcolm the center of the story, and the result was In the Loop, the most blisteringly funny and deeply cynical political satire since Dr. Strangelove.
And Capaldi, who turns swearing into an art form, is at the center of all of it. As much as it is to quote his best lines from In the Loop ("I know you disapprove of swearing, so I'll sort that out. You are a boring F, star, star CUNT!"), but truly, you have to watch it in action for yourself. Here's one of Malcolm's first scenes in In the Loop, and yes, he does get to screen obscenities over the movie's title:
Like what you see? If you have Hulu Plus, you can also watch In the Loop in its entirety-- and please, please watch the movie if you've never seen it before-- either embedded below or at Hulu.
Of course, Capaldi isn't just a single character that he's played. You might have caught him this summer in World War Z as one of the World Health Organization doctors helping Brad Pitt in the tense final scenes (as it, Capaldi is credited on IMDB as "W.H.O. Doctor"-- a premonition!) He also played Head of News Randall Brown on the dearly departed BBC series The Hour and he'll appear opposite Benedict Cumberbatch-- a British treasure nearly as beloved as The Doctor himself-- in The Fifth Estate, the film about Julian Assange due out this fall. But of course, it's the Doctor Who Christmas special that everyone will have their eye on. And those of us who can never, ever forget Malcolm Tucker will be wondering all the while if he can keep the F-bombs in check.
Staff Writer at CinemaBlend
Your Daily Blend of Entertainment News
Thank you for signing up to CinemaBlend. You will receive a verification email shortly.
There was a problem. Please refresh the page and try again.