Dollhouse's Tahmoh Penikett To Guest Star On Arrow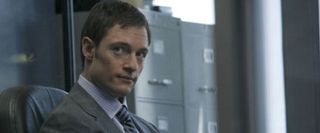 Dollhouse and Battlestar Galactica alum Tahmoh Penikett has spent the last couple of years hopping from one guest starring TV role to another guest starring TV role. He's appeared in Haven, Castle, and The Continuum, and now he'll be heading to The CW, where he will guest star in one of the network's most highly anticipated new dramas.
Penikett is headed to Arrow, where he will play a tough character named Tom Salvati. According to Green Arrow TV, Salvati is the number 2 guy in a faction of the mob, who works under Frank Bertinelli (played by Jeffrey Nordling). We already know things aren't looking good for Bertinelli on the show, and since Penikett is only signed on for a guest starring role, I'd expect things to go awry for him, as well. However, fans will just have to wait and see.
Jessica De Gouw has already been cast in Arrow as the Huntress, also known as Helena Bertinelli. After her father reaches an untimely end, his daughter will become a vigilante known as the Huntress. There's no word yet on exactly how Salvati's plot will intertwine with the Bertinelli's, but TV Blend will keep you posted.
De Gouw is set to show up in an episode called "Muse of Fire," which airs in late November. There's no current news on which episode Salvati will show up in, but it should be around the same time. "Muse of Fire" is the seventh episode in Season 1, which begins airing on October 10. If you want to catch Penikett in another realm of the D.C. Universe, he also is listed as having a role in the Superman movie, Man of Steel.
The CW's Arrow premieres Wednesday October 10 at 8 p.m. ET.
Your Daily Blend of Entertainment News
Thank you for signing up to CinemaBlend. You will receive a verification email shortly.
There was a problem. Please refresh the page and try again.