Donald Glover To Play Young Tracy Jordan On 30 Rock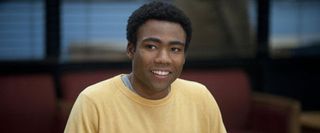 Donald Glover has a lot of ties with 30 Rock. The 28-year-old actor earned a brief stint as a writer on the show and even appeared in several episodes of the NBC program as a bit player before joining the cast of Community. Now, the NBC veteran will return to 30 Rock for a special episode in which he plays none other than Tracy Jordan.
Although I was halfway hoping Glover's stint as Tracy Jordan would entail one of those alternate viewpoint scenes the show has employed in episodes like "Apollo, Apollo" where Kenneth sees everyone as a Muppet, it's no surprise this is not to be the case. Instead, Glover's stint as Jordan will take a more traditional route. TV Line is reporting the episode will feature flashbacks of a young Tracy Morgan, who will be played by Glover.
The episode is set to air on April 26 and will follow the decision to move show-within-the-show TGS from live to taped episodes. According to executive producer Robert Carlock, while some of the cast and crew are perfectly fine with the change, moral model Kenneth goes out of his way to look back at TGS and other "old shows" before this. Despite 30 Rock being hit or miss this season, the episode could be epic, so plan to tune in.
Personally, I hope the two will also manage to bust out some lines of "Werewolf Bar Mitzvah" but if that can't happen, a couple of verses from "Bitch, Look at Me Now" will do in a pinch.
Your Daily Blend of Entertainment News
Your Daily Blend of Entertainment News
Thank you for signing up to CinemaBlend. You will receive a verification email shortly.
There was a problem. Please refresh the page and try again.