Donna Douglas, Beverly Hillbillies Actress, Dead at 82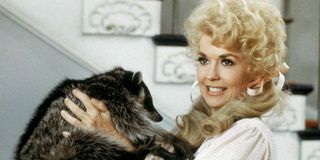 Donna Douglas, best known for her role as Elly May Clampett in the CBS series The Beverly Hillbillies recently passed away at the age of 82. The actress who won over many viewers as the naive blond bombshell of the series, lived a long life, and only found out she was suffering from pancreatic cancer three months before her death.
Douglas' niece, Charlene Smith, told WAFB news that her aunt passed away on Thursday January 1, with her family members by her side in her Louisiana home. Douglas had a trying life before her stardom, her family was poor, she married at age 17, had a child, and soon after split from her husband. Later, the young woman moved to New York to pursue a career in entertainment and make as much money as possible to send back to her son, as Douglas' parents looked after him during her absence. She tried her time in modeling, but found television more appealing and soon moved to Los Angeles where she landed her role in The Beverly Hillbillies.
Douglas became every man's dream girl after scoring the role in the hit series, and had an interesting career because of it. She would turn down movies, because they'd ask her to show more and more skin, but still appeared in several other hit shows including, The Twilight Zone, Mister Ed, Route 66, and even co-starred with Elvis Presley in Frankie and Johnny. But Douglas always stayed true to her Southern and Christian roots and would visit schools, churches and organizations across the nation to talk about God, her story of moral choices, and her times in the industry.
The Beverly Hillbillies ranked among the top twenty most watched programs on TV, it was hugely popular as one of the earliest farce comedy shows in America. And the popularity has continued with the 1993 film remake. But, the show was not expected to do so well at its start. The network president who put the show on air, Michael Dann, later confided that he hated it after screening the pilot, but the public ended up loving it, and the show ran for 9 seasons.
Donna Douglas' character was beloved, and not just for her looks. She could throw a fastball, and was kind and caring towards animals. And as every character in the show, she offered up some great laughs. Here's a clip of one of her most famous bathing suit scenes.
The actress and comedian went far beyond her role as Elly May. After acting she became a real estate agent, Gospel singer, speaker, and children and adult book author. She led a long and full life, and will be missed dearly.
Your Daily Blend of Entertainment News
Thank you for signing up to CinemaBlend. You will receive a verification email shortly.
There was a problem. Please refresh the page and try again.