Duck Dynasty Dramatically Falls In The Ratings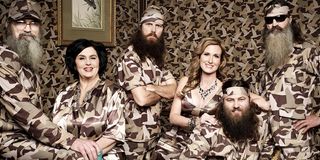 For a long time, Duck Dynasty was a hugely popular program on the A&E network, spurred by the Robertson clan, a crew of fun-loving Southerners known for their wild antics and strange sayings. Last fall, A&E had a bonafide hit on its hands, airing a fall premiere that broke records for the cable station. On Wednesday, the reality franchise began airing Duck Dynasty's sixth season, and the numbers are no longer looking so good.
The Season 6 premiere of Duck Dynasty brought in 4.6 million total viewers during its original airing. If we are comparing those numbers to a lot of the other fodder produced for cable, that's not half bad. However, we're talking about Duck Dynasty, a series that has brought in great advertising revenue and allowed A&E to get creative with its programming. Last August, the show brought in 11.8 million total viewers for its Season 4 premiere. That was only ten months ago. Yet, Deadline is noting that Duck Dynasty's summer premiere declined 46% from last season's. Those numbers certainly are worth quacking about.
So, what led to the decline? The sudden decrease in numbers could indicate that audiences have turned on the Robertson family after patriarch Phil Robertson made some unpopular comments in very public forums. The January issue of GQ featured an interview during which Robertson condemned "homosexual behavior" in a way that was both graphic and unpleasant to read. The backlash was pretty high, and numbers for this winter's Season 5 premiere were down a bit from Season 4. Now, it seems the show is beginning a more rapid descent.
Still, it's likely that the controversy only managed to contribute to Duck Dynasty's decline and is not the sole cause of it. Most shows cannot sustain a high level of popularity for more than a few seasons. Ones with gimmicky concepts, like Duck Dynasty, usually run out of steam after some time, as the jokes grow stale and the personalities become repetitive. Duck Dynasty always had a short shelf life, and while the numbers will justify it staying on the air for several more seasons to come, it's possible it will no longer be a part of the cultural lexicon anymore. Think of it like Grey's Anatomy. Yes, that program is still on the air. Yes, a lot of people still love it, but you can't just say "Who will McDreamy choose?" to anyone and assume they'll know what the hell you're talking about.
Following a show's premiere, sometimes the ratings stabilize and sometimes they continue to fall. It remains to be seen which of those forks Duck Dynasty will take. We'll let you know when we have a better idea.
Reality TV fan with a pinch of Disney fairy dust thrown in. Theme park junkie. If you've created a rom-com I've probably watched it.
Your Daily Blend of Entertainment News
Thank you for signing up to CinemaBlend. You will receive a verification email shortly.
There was a problem. Please refresh the page and try again.