Eastbound & Down's Kenny Powers Is The New CEO Of K-Swiss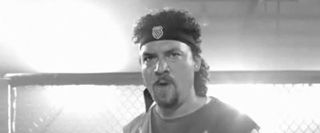 There's something odd and yet totally inspired about the relationship between Kenny Powers and K-Swiss... I mean, am I the only one who finds it completely bizarre, hilarious and somehow appropriate that this abrasive, to say the least, fictional character has paired for an endorsement deal with a brand I always associated with sailing, perhaps the least volatile sport in the world? Yet, the final result speaks for itself, a match made in heaven.
For the few who aren't aware, Kenny Powers (played by Danny McBride on HBO's Eastbound and Down) was a former big league pitcher who had it all... fame, fortune and frequent fornication only to throw it all away because of hubris and an all around lack of discipline (or concern for his personal well-being, namely by ingesting copious amounts of cigarettes, alcohol, cocaine and MDMA. Not the best diet for a major leaguer).
However, after some soul searching and a brief stint in the Mexican Minor Leagues (the arch of the second season), Kenny just might be making his triumphant return to the bigs. First, he's doing a little business along the way, like buying a 51% share in K-Swiss. That's right, K-Swiss is in Kenny's (sorry, Kenneth's) hands now and he brought in a slew of new faces to whip the company into shape including Jillian Michaels, Matt Cassel, Jon 'Bones' Jones and Rey Mysterio Jr. Oh, some nice cameos from Mark Cuban and Michael Bay as well.
Watch Kenny Powers' K-Swiss takeover:
Here's a look behind the scenes of the campaign:
This is actually the second of K-Swiss's strange, viral marketing campaigns with the fictional HBO character. Not long ago they ran this video, in which they hired Powers as a pitch man. Apparently they paid him in stock, which would explain his recent takeover of the company. Here's a look at Kenny's early days with K-Swiss, as their pitchman:
Eastbound and Down returns to HBO for Season 3 this fall.
Your Daily Blend of Entertainment News