Electra Woman And Dyna Girl Reboot To Star Two YouTube Peronalities, Get The Details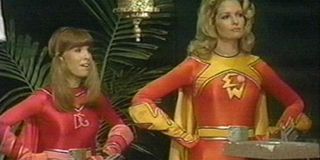 Remember that sci-fi children's series Electra Woman And Dyna Girl from way back in the 70s? Okay, let's just go ahead and admit it, many of us probably don't. Well, that isn't stopping Legendary Digital Media and Fullscreen from reviving the short-lived series with hopes that it can sustain, now, what it couldn't almost 40 years ago. With the two leading roles now filled by YouTube stars Grace Helbig and Hannah Hart, we should soon find out.
According to Variety, the female-led superhero series reboot of Electra Woman And Dyna Girl is underway with Helbig to star as Electra Woman and Hart as Dyna Girl. The plot of the series follows two superheroes who move from Akron, Ohio to Los Angeles with dreams of making it big in the world of fighting crime. Upon arriving, however, they find fierce competition in an over-crowded market of vigilante fighters.
Hart, often called Harto, is a multi-talented American internet personality probably most widely known for her starring role in the weekly-run YouTube series My Drunk Kitchen, where she cooks food while under the influence of alcohol. She runs two channels on the video hosting site, wrote a 2014 New York Times bestselling parody cookbook, and co-produced and starred in the 2014 independent comedy film Camp Takota. If the idea was to seek out an empowered, self-motivated female then it sounds like they found their woman.
Similarly, Helbig is also an American comedian, actress, author and YouTube personality. She is host and creator of the it'sGrace YouTube channel and is best-known for her My Damn Channel web series DailyGrace. She authored a comedic self-help handbook called Grace's Guide: The Art of Pretending to Be a Grown-up, and has appeared on G4 network's Attack of the Show!, the Fine Brothers' web series MyMusic and in the above-mentioned film Camp Takota (the lattermost, which was picked up by Netflix in Dec. 2014). Again, we're seeing a pattern of women who know how to get things done!
The original Electra Woman And Dyna Girl series was created by Sid and Marty Krofft in 1976. It only stuck around for a single season, airing 16 episodes (each 15 minutes long) as part of the umbrella series The Krofft Supershow. In 2001, the WB tried to revive the series, going so far as shooting a pilot, but it was never picked up to series. Get a taste of the show with the clip below.
We're thinking that with Helbig and Hart's combined social media following of over 10 million subscribers and followers, the two women (relatively unknown to mainstream audiences) may be able to make something happen. Nevertheless, it will be interesting to see what comes of it.
Electra Woman And Dyna Girl is only the latest project announced, following the trend of female-led superhero projects like the Supergirl series, the much larger DC film Wonder Woman, the Marvel produced Captain Marvel (expected in 2018) and now potentially a 2020 female-led Green Lantern.
Your Daily Blend of Entertainment News
Thank you for signing up to CinemaBlend. You will receive a verification email shortly.
There was a problem. Please refresh the page and try again.