Eliza Dushku Will Guest Star On White Collar In Season 3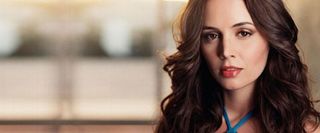 Since Dollhouse was canceled last year, Eliza Dushku has sort of faded out of the television spotlight. She's most recently lent her voice to Fight Night Champion, a boxing video game that came out in March. However, the seasoned actress has now set her sights back on television, earning a guest spot on USA's White Collar. Her character will appear in the ninth episode of the third season, and she'll be playing someone "who's obviously very sexy."
Early reports indicate Dushku's character will be working for Mathew Keller (Ross McCall). We don't really know exactly how this will fit in; however, rumor has it, there's going to be some trouble between Neil Caffrey (Matt Bomer) and his new girl. Dushku seems like the type of girl who would be quite adept playing a femme fatale tempting a man whose relationship is faltering.
According to THR, if Dushku's stint goes well, there is a good chance it will lead to a recurring role on the program. Honestly, Eliza Dushku has had a solid career as a side character. Even though programs based around her like Tru Calling and Dollhouse have been bombs, she has been an interesting actress to watch. So, I wouldn't be surprised if she figures out how to make this new character something special. At the very least, it would breathe a little more life into White Collar.
Your Daily Blend of Entertainment News
Thank you for signing up to CinemaBlend. You will receive a verification email shortly.
There was a problem. Please refresh the page and try again.