Ellen DeGeneres Produced Pilot Headed From NBC To ABC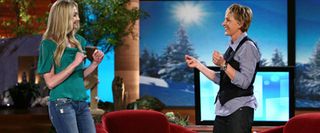 Ellen DeGeneres has a pretty good relationship with NBC. Her daytime talk show, The Ellen DeGeneres Show, runs on the network, which may have been the reason, after an intense bidding war, DeGeneres' new production company A Very Good Production, sold a comedy with a pilot commitment to NBC in September. NBC eventually passed on the sitcom, but that doesn't mean the comedy was no longer in demand.
NBC was kind enough to release the show so it could be picked up by another network. Now, ABC has nabbed DeGeneres' comedy, about a couple of sisters who do not really get along. As previously reported, Samantha Who? co-creator Don Todd is on board to write the project and DeGeneres' spouse, Portia De Rossi, will play one of the two sisters. According to Deadline, De Rossi's character will be intelligent working woman who will be written into a situation where she is forced to work for her beauty queen sister. The clincher? Her sister is now the mayor in a pretty big city.
The multi-camera comedy is currently going by the apt title The Smart One. It certainly is a smart project for A Very Good Production, as it marks the company's first pilot commitment. Honestly, the project seems to be shaping up nicely. Both De Rossi and DeGeneres have already garnered relationships with ABC, between Ellen and Better Off Ted. Besides, ABC has a decent track record with picking up NBC's leftovers. Remember what happened with Modern Family?
TV Blend will keep you posted on any other casting news that comes our way.
Your Daily Blend of Entertainment News
Thank you for signing up to CinemaBlend. You will receive a verification email shortly.
There was a problem. Please refresh the page and try again.