Emmys May Supersize Drama Category To 10 Nominees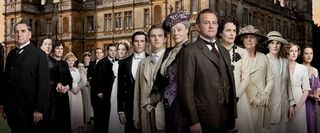 The Emmy Awards may be following in the footsteps of their big-screen cousin, the Academy Awards. The Oscars were met with much controversy a few years back when they expanded the Best Picture category from five nominees per year to ten. The change was ostensibly to allow Academy voters to consider a wider range of films when it came to arguably the Oscars' biggest category. While the change resulted in much hullaballoo in the blogosphere, it was actually a throwback to the Awards' earlier days: the five-movie limit was instituted in 1944, but prior to that there were as many as 12 contenders. Whether the change back has been a good thing is still being debated, but obviously the Academy aren't the only ones who are convinced that more is better. Now the Primetime Emmy Awards may also be expanding one of their biggest categories. According to Variety, the 2013 Emmy race may see the Best Drama category expanded to 10 nominees.
Apparently the change is being spurred by one of the year's surprise breakout hits, PBS' period drama Downton Abbey. The Academy of Television Arts and Sciences recently decided to shift Downton Abbey from the miniseries category to the drama category when it became clear that the show would be getting a second season. This change, along with the abundance of acclaimed dramas on the air these days inspired the additional expansion.
John Leverence, awards chief at the Academy of Television Arts & Sciences, said the change would take effect no earlier than the 2013 Emmy race, and commented on the rationale:
Your Daily Blend of Entertainment News
Your Daily Blend of Entertainment News
Thank you for signing up to CinemaBlend. You will receive a verification email shortly.
There was a problem. Please refresh the page and try again.