Everybody Loves Tyler James Williams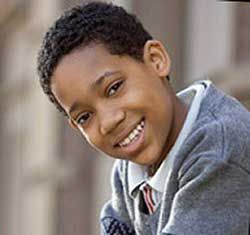 Playing a young Chris Rock might seem intimidating to some kids, but Tyler James Williams takes it all in stride. In an interview last winter, we caught up with the 14-year-old star and learned what he thinks about playing a TV icon in Everybody Hates Chris.
How did you get started in acting?
Tyler: I got started acting by going to auditions that my mom found in the entertainment section of our local news paper. Then, I got a manager and started going out on more auditions.
You were on Sesame Street from 2002 to 2005. What was that like?
Tyler: What I remember most about working on Sesame Street is having fun in the green room with the other kids while waiting for my time to go on camera to work with the puppets.
Is it overwhelming to play a young Chris Rock on Everybody Hates Chris?br>
Tyler: No, it's not overwhelming to play the young Chris Rock, because most viewers didn't know Chris as a kid. It's not overwhelming...it's a lot of fun.
Do you get to work with him? What's he like?
Tyler: No, I don't work very closely with him. But he is very cool and down to earth.
You've done a lot of acting, including last year's Unaccompanied Minors. What do you love about acting?
Tyler: What I love most about acting is being able to play different types of personalities without being considered crazy.
Best thing about being an actor?
Tyler: Meeting new people.
Worst thing?
Tyler: Nothing!
Any tips for aspiring young actors?
Tyler: Make sure you're doing it for the right reasons.
Tyler's Faves:
Video game: Halo
Book: The "Left Behind" Series
Movie: Dodgeball
Music/Band: Rap - a variety of artists
Food: Macaroni & Cheese
Food I'd never eat: Caviar
Subject in school: History
Vacation Spot: Figi
Your Daily Blend of Entertainment News