Exclusive: Michael C. Hall On A More Paranoid And Manipulative Dexter In Season 7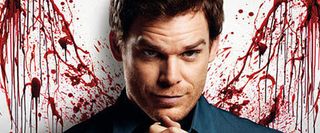 With Dexter entering its seventh season on Sunday, September 30th at 9pm EST, we're all left wondering, can our favorite serial killer really pull it off again? The show's core idea, a guy addicted to killing but only murdering bad guys, is certainly on the high concept side and when you've got a high concept, it's far more susceptible to running dry.
However, if you caught the grand finale of Season 6, you know that a whole new door has been opened, a door that'll likely welcome more conflict, new relationships and, of course, a new adversary for Dexter. While promoting his upcoming feature release, The Trouble with Bliss, Dexter himself, Michael C. Hall dedicated some time to discussing his perspective on the character, touching on what he's looking forward to exploring in the new season.
Clearly with that "newest development" will come many lifestyle changes for Dexter, and that's something Hall is excited to dive right into...
You think Dexter's been devious in the past? Hall suspects he'll grow to become even more calculating in the future...
The "newest development" will likely be a major player in round seven, but a new season also means a new villain and while Dexter's entire list of adversaries has been particularly successful, it's Trinity who's unforgettable. So, can the show writers possibly top John Lithgow's infamous killer in the upcoming season? "Not in that sense," Hall began...
While he mentioned that that scenario cannot be done again, he joked, "It'd be interesting if we did some sort of face off in another realm of all the big bads over the course of the seasons. I don't think that would ever happen, but if we did, I have a feeling that Trinity would come out on top."
How's that for an idea for Dexter the movie?
Your Daily Blend of Entertainment News
Staff Writer for CinemaBlend.
Your Daily Blend of Entertainment News
Thank you for signing up to CinemaBlend. You will receive a verification email shortly.
There was a problem. Please refresh the page and try again.