The Expendables May Be Headed To TV, Get The Details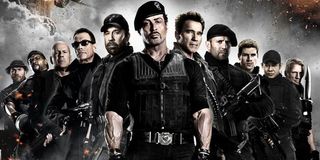 Sylvester Stallone's Expendables franchise has made a lot of money, and while there hasn't been talk of making a fourth movie, it looks like the franchise could still live on. On Thursday, we learned that Fox is working on putting together an event series based on the three movies. Currently, Stallone is attached as an executive producer, but it does not look as if he will star should the Expendables TV project move forward.
The Expendables is actually a Lionsgate property, and the company has been attempting to sell a series based on the movies since at least 2012. This time around, Fox seems interested and has ordered a script for the project, and NCIS' Shane Brennan is even signed on as the showrunner. In addition, Greg Coolidge and Kirk Ward are set to write the project.
The Expendables is still in the pretty early stages, so no cast members have been signed on, yet. However, Deadline reports that Fox plans to "unite iconic TV stars" for the gig. Which means the likes of Stallone and Bruce Willis are out. In addition, Wesley Snipes is also attached to the TV pilot Endgame, so he won't get a chance to play a big part like he should have had in The Expendables 3. There are plenty of TV action stars, of course, but we likely won't be seeing anything like the Expendables cast.
We know that heavy hitting action dramas can work. Shows like Cinemax's Banshee have proven that there is still an audience for throwback action premises. My own concern, however, is how the Expendables would need to change in order to fit a network TV channel's standards (unlike Banshee, which does whatever it wants on a pay cable network). Since The Expendables was primarily successful when it was a violent, heavy-hitting and R-rated movie franchise, I'm not sure where a show based on the films would really fit into Fox's lineup.
This holds especially true, since Sylvester Stallone has admitted in the past that making The Expendables 3 a PG-13 action flick was a huge mistake, even stating it "won't happen again." Essentially, bringing The Expendables to TV would mean the Expendables will be going soft once more, just in a different medium.
There are a lot of TV projects this season based on popular movie franchises. Minority Report is also getting a pilot over at Fox, with some of the same characters from the film. Frequency, Problem Child, Uncle Buck and more have already been bandied about for next season. I'm not saying The Expendables is among the worst of these ideas, but I'm not yet convinced it's among the best, either.
Reality TV fan with a pinch of Disney fairy dust thrown in. Theme park junkie. If you've created a rom-com I've probably watched it.
Your Daily Blend of Entertainment News
Thank you for signing up to CinemaBlend. You will receive a verification email shortly.
There was a problem. Please refresh the page and try again.