3 Big Reasons Why You Should Be Watching Banshee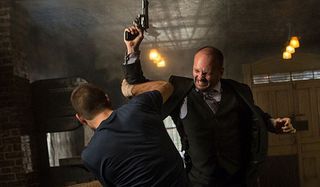 Cinemax's Banshee has slowly and steadily been building an audience over at the subscription cable network. Jonathan Tropper and David Schickler's over-the-top drama (executive produced by Alan Ball) about seedy criminals and the small town that serves as a hub for said criminal activities earned its highest viewership during its Season 2 finale last March. Ahead of the show's Season 3 premiere, HBO Home Entertainment has released Banshee: The Complete Second Season onto Blu-ray and DVD and we highly suggest you give it a shot before the new season rolls around.
The set itself is filled with plenty of goodies, including a slew of deleted scenes and "Zoomed In" looks inside the episodes. But it's really all about the episodes, and if you haven't caught Cinemax's small town, action-oriented drama, here are three big reasons to tune in.
Banshee Has Depth
Throughout the first season of Banshee, the series focuses on heavy-hitting action. Brawling and weapons are mainstays, and much of the drama is based around masculine ideas of manhood and being the biggest badass in the room. But there is also the remnants of a romance at the core of the series, and Banshee's second season is shaped even harder around how past feelings and entanglements can shape the present. It's easy to dismiss the drama as one that's more about muscle than intellect, but those who think that probably haven't been watching carefully.
Banshee Has Its Own Unique Style
Yes, there are plenty of action shows on television, but none of them feel like they are both glorifying and updating the 80s action drama. Sure, there are a lot of shoot-em-ups on TV and there's plenty of violent content nowadays, but most of those shows reject the rugged masculinity of the Stallone's and Van Damme's of the eighties. Not Banshee. This show loves it's roundhouse kicks high and its women fast. It's not apologizing for its bloodlust, and it prefers to bask in the brutality. All it eliminates is the cheesiness, which leaves a finished product that's both fun and capable of real emotion in the way a lot of the classic action movies aren't.
Banshee Is Filled With Weirdos
Banshee's cast of colorful characters extends beyond leads Lucas Hood and Carrie Hopewell, who just so happen to be thieves living under aliases who were estranged for years before sort-of coming together to kick ass. Believe it or not, those are the least interesting plot descriptions for anyone on the show. Throw in a transvestite computer hacker who loves to straight talk, a former Amish community member turned small town crime lord with oddball sexual preferences, a Ukrainian gangster with more tricks up his sleeve than Houdini, and a retired boxer turned bartender who may be old but still doesn't mind throwing around his weight. I could go on, but you get the gist. The characters are weirdos and the show has even made room for them to grow during Season 3.
Cinemax's Banshee returns to the schedule on Friday, January 9 at 10 p.m. ET. That gives you plenty of time to binge watch all 20 episodes before the drama returns either via HBO Go or this week's Blu-ray and DVD release. You can thank me later.
Your Daily Blend of Entertainment News
Reality TV fan with a pinch of Disney fairy dust thrown in. Theme park junkie. If you've created a rom-com I've probably watched it.