This Minority Report Actor Is Coming Back For The Show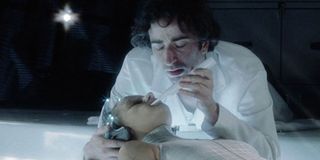 The Fox pilot Minority Report, based on the 2002 science fiction thriller of the same name, has been moving forward in the development process fairly quickly over the last few months. In a move that's likely to please fans of the now 13-year-old Steven Spielberg-directed film, the studio has secured one of Minority Report's original cast members, Daniel London, for the pilot.
The Minority Report series may not have the world's #1 favorite action star Tom Cruise lined up, but thanks to the casting of London, at least we know an original Minority Report actor will be joining the drama. According to Deadline, London will reprise his role of Wally the Caretaker, a bumbling custodian employed at the Precrime Temple, in the Spielberg film. Joining London is Li Jun Li (The Following) in the role of crime scene investigation technician Akeela.
The series adaptation will act as a sequel to the original film, set about 10 years after Washington D.C.'s Precrime project has come to an end. One of the three iconic Precogs, Dash, will be struggling to lead a normal life amongst his lesser-intuitive human beings. During the project, he cannot seem to shake being tormented by futuristic visions from his past. Upon meeting a detective named Lara Vega, also haunted by her own past, he gains renewed hope that she may be able to help him find a purposeful application for his unique gift. Wally the Caretaker (London) is eager to help Vega and Akeela (Li) while assisting Dash in building his new identity.
Fans of the film Minority Report probably remember it as an exciting action suspense thriller with amazing visual imagery and killer CGI effects. The film was set in 2054 and follows Precrime Captain John Anderton (Cruise) as he performs regular raids on homes of future murderers and potential perpetrators of crimes not yet committed. When the drug-addicted Anderton is predicted to commit the murder of a man named Leo Crow, he finds himself the target in a manhunt, led by U.S. Department of Justice member Danny Witwer (Colin Farrell).
Provided it is picked up to series, Minority Report sounds promising, despite the fact it may not have the budget, effects or cast of its big brother studio film. The idea a sequel as opposed to a prequel opens up the possibilities for a TV drama that is entirely fresh. With the 2014 Godzilla screenwriter Max Borenstein on board as the writer and producer, there's hope that something interesting transpires.
Your Daily Blend of Entertainment News