Expendables 3 Robbed Us Of A Much-Needed Wesley Snipes Renaissance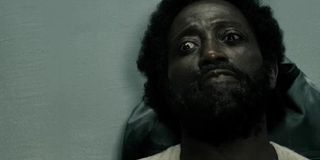 At the start of The Expendables 3, the crew breaks into a prison train to secure Doc, a wild-eyed killer played by Wesley Snipes. The actor, equally wild-eyed and ravenous, responds to his freedom by briefly zoning out. While the crew awaits him in their helicopter, he takes one look at them, then runs in the other direction. The rest of the group don't try to pursue: Snipes is running away with the movie.
For the first time in years, Snipes is free. Free from the mind-numbing obligations of cheap direct-to-DVD action movies, free of the demands of the Blade franchise, and finally just free: he spent a couple of years in prison for tax evasion, a conviction The Expendables 3 turns into a not-too-subtle joke. It's as much a pleasure for him to be unshackled onscreen as it is for us to see him again, years passed his prime, that spark still alive in his eyes.
Naturally, the movie treats him similarly to the other legends onscreen, chucking him to the scrap heap three scenes later.
The casting announcement of Wesley Snipes for The Expendables 3 was maybe the most exciting that the franchise has had yet. Unlike most of the crew (no offense), Snipes could seriously ACT. While Stallone and Schwarzenegger were trying to outdo each others' bombs, Snipes was working with Martin Scorsese, Abel Ferrara, Spike Lee and Mike Figgis. Snipes was this-guy-must-actually-be-a-comedian funny in Major League and ultimate cool in New Jack City. By the time he had his own movie franchise in Blade (a character almost entirely revamped to suit Snipes' skillset), it felt like there was so much more to him than just kicking and punching people.
Of course, action was what he did best, and in the later part of his career it was impossible to ignore. He had his own iconic vehicle in Passenger 57, a Die Hard variant where Snipes delivered the infamous bon mot "Always bet on black." But he was a b-action movie star who dabbled in A-action: he was just at home sharing the screen with Sean Connery in Rising Sun as much as he was trading quips with (and, it must be said, out-acting) Sylvester Stallone in Demolition Man. Snipes, for a brief time, was a guarantee of quality. Handsome, funny and athletic, he was the perfect movie star.
The Expendables has been a franchise that built itself on inevitability, on a formula enacted to a tee. But when Snipes' Doc joins the group, suddenly the Frankensteined series is alive, brought to life by an errant bolt of lightning. Given his recent imprisonment (both Snipes' and Doc's), his character is a little unhinged, a little "off", as he rambles on about the unseen "original" Expendables, shaving his beard off with a knife. The camaraderie is so strong in these movies that you rarely see the characters, and the actors, so absolutely vexed by another in their midst.
It's not a surprise that The Expendables has done very little for the profiles of some of the actors involved. Many of them went right back to the direct-to-DVD fare in which they had specialized, like Dolph Lundgren and Jean-Claude Van Damme. Others, like Stallone and Mickey Rourke, have continued slaving away at mainstream film to diminished returns. But if the third film were a Snipes showcase, you'd be reminding the world of one of the great leading men, and how he's been missing. Snipes' last film of note was Brooklyn's Finest, something of a departure for him in that it wasn't a quickie action film, several of which clouded his late-career resume. He's no gimmick in that film, and it's genuinely not bending over to honor someone when you tell the truth: Snipes easily holds his own against co-stars like Don Cheadle, Richard Gere and Ethan Hawke. Snipes' conviction occurred during that period: even if producers could respond to his performance in that film, it was too late, and Snipes was about to enter the clink.
Stallone and director Patrick Hughes let Snipes run wild in those opening scenes before, like the rest of the crew, he is fired. The resolution is that Stallone's Barney Ross actually can't do without the older crew, making them all indispensable. Snipes returns, but the third act is all bombast and routine: he barely has any lines, and doesn't make his presence felt. His Doc is given a knife-wielding skill, which duplicates the abilities of Jason Statham's Lee Christmas. Ultimately, he's just another one of the gang, like non-actor Randy Couture or charisma-void Glen Powell. By the time the dust settles on the finale, you don't even remember what Doc did, or if he survived. It's a shoddy way of treating the most talented Expendable. Now that the movie seems like a flop stateside, a Snipes renaissance is lost to us. He'd be an amazing lead on an HBO show, he'd be great showing up in Fast And Furious and he's even probably got a few amazing dramatic performances left in him. Maybe he could have been Blade, again. Thanks to the way he's used in this film, we're not gonna see any of that.
Celebrate the best of Wesley Snipes with a few of our favorite clips on the next page. White Men Can't Jump
Jungle Fever
Major League
Blade