FX Orders More Wilfred And It's Always Sunny In Philadelphia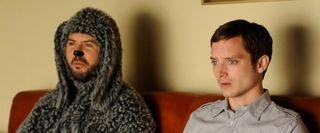 Louie isn't the only show with good news. It's been announced today that FX has renewed their new comedy series Wilfred for a second season. There's also big cause to celebrate for It's Always Sunny in Philadelphia.
According to Entertainment Weekly, not only is Wilfred being brought back for a second season of hilarity, but the popular It's Always Sunny in Philadelphia is getting two more seasons, which will make it the longest running comedy series in the history of basic-cable. As for Wilfred, the series, which is currently in its first season this summer, stars Elijah Wood and creator of the original Australian comedy on which the show is based, Jason Gann. In the show, Gann plays a dog named Wilfred, whom Wood's character (and him alone) sees as a man in a dog costume.
According to EW, FX President John Landgraf spoke about some of FX's other upcoming projects, including the gritty superhero cop pilot Powers, which has not yet been picked up to series. Landgraf compares the show to the film Seven and is apparently optimistic about its chances of getting a series order.
He also mentioned the cancellations of Terriers and Lights Out, stating, "If I hadn't canceled Lights Out and Terriers, American Horror Story wouldn't exist. I can't have an infinite portfolio of shows."
Considering that comment, I truly hope AHS turns out to be excellent and manages to supplement the loss of the two mentioned, excellent drama series that failed to garner the audiences they deserved. If you're interested in American Horror Story, check out the latest promos here.
Your Daily Blend of Entertainment News
Thank you for signing up to CinemaBlend. You will receive a verification email shortly.
There was a problem. Please refresh the page and try again.