Fame Could Return To Television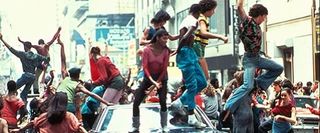 Fame apparently is going to live forever. The 1980's hit film and series has already been remade into another feature, and now it's in development to become a series again. MGM TV is working with American Idol executive producer Nigel Lythgoe to reboot the concept into a new version of the show.
Fame came out in 1980 as a feature film and spawned a series a couple of years later. The original series ran from 1982-1987. It followed the lives of aspiring performers facing the difficulties of climbing the ladder into the spotlight. The new version in development is a modern take on the orginal idea that will look at the new face of fame and the struggle to succeed. I have to say however that it seems to be easier than ever before to become famous, and I am not sure how this show fits into the framework of modern celebrity. In an age when you can be famous literally without discernible talent of any kind, merely a willingness to make your private life available for public consumption, where is the struggle to succeed?
Granted, the aspiring stars in Fame were always people of talent trying to make it as legitimate stars; singers, dancers, and actors. Hopefully, the new version will focus on the same people. It would be interesting, however, to see how the temptation of reality television impacts how young talent approaches the path to stardom. The description of the new project, according to Deadline does hint at this, stating it is "set against the backdrop of today's unprecedented access to celebrity." That could be the spin that gives Fame new life.
Your Daily Blend of Entertainment News
Thank you for signing up to CinemaBlend. You will receive a verification email shortly.
There was a problem. Please refresh the page and try again.