Fictionalized Young Thomas Edison Drama In Development For NBC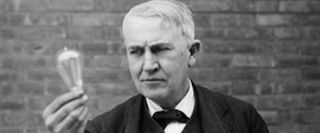 NBC is setting up a new period drama that will have at its center a somewhat fictionalized version of a very famous man. Edison looks at the young Thomas Alva Edison, the inventor who did much to change the modern world. But the show wouldn't have us spend our time watching Edison brainstorm; they've added a crime drama component to the story as well.
Deadline says that in addition to being the nation's most revered inventor, the young Edison will also become an undercover consultant to New York's police force, which finds itself overwhelmed and lacking in both training and the equipment to get the job done. Edison will play the role of a crime scene investigator whose ultra-cool and cutting edge – for the time – inventions will help to unravel the mysteries of the city's crime scenes.
While it's a period piece set in the 1880's, the project is said to have a modern feel. It already sounds vaguely reminiscent of recent Sherlock Holmes incarnations, and is said to have the same energy and feel as the most recent set of Holmes films. Of course, Holmes is an entirely fictional character, while Edison is a real person being given a fictional secret life as a crime fighter. It's being written by Longmire writer Daniel C. Connolly, with Breaking Bad's John Shiban overseeing the script development.
Considering the recent rise in period dramas and the interesting fictional spin on a man whose work has an everyday impact on our lives today, this project sounds like it has some promise.
Your Daily Blend of Entertainment News