A Final Fringe Promo Asks Where Is Peter Bishop? Plus A Sitdown With Joshua Jackson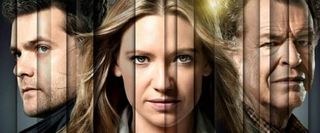 There is not another show on TV that has been marketing themselves as well as Fox's series Fringe. Sure, they have a leg up since there probably isn't another show on television that ended on such a spectacular cliff-hanger as the Season 3 finale of the science-fiction series from Roberto Orci and Alex Kurtzman. The campaign continues with yet another 'Where is Peter Bishop?' promo as well as a really smart 'sit down with Joshua Jackson' video.
Fringe is one of the better and more adventurous series on television. They have, what's the right word, a lot of balls. They don't dumb anything down for their audience but instead demand that they, not only understand the 'Fringe' science behind any given week's event but also, have to tune in every week so as not to fall behind the intensely complicated and fast-moving narrative. It's really a wonderful bit of storytelling and, even if you can't jump right into Season 4, you should go back to the beginning and give this one a(nother) shot (or maybe, in a parallel reality, you already are).
As far as these new promos are concerned, the fifth in the 'Where is Peter Bishop?' series follows the same sort of stylistic patterns as the first but offers a little bit more footage from the upcoming season, especially highlighting the newest permanent cast member Seth Gabel (Lucas Lee). It almost seems like he'll be our Peter substitute until they find a away to find him. As Olivia says, "we all get really good at pretending that the loneliness is there and then something comes along to remind us," like the second and third promo videos. The second is a genius reminder of that loneliness. Take a look.
Fringe - A Sitdown with Joshua Jackson
Fringe Season 4 returns to Fox on Friday, September 23rd at 10 p.m.