First Arrow And Flash Crossover Photos Promise Excitement And Boomerangs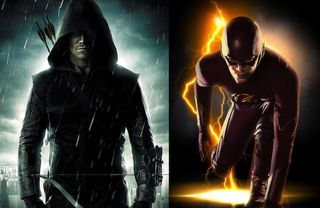 Barry Allen and Oliver Queen are already well-acquainted, but the two have yet to join forces in a good ol' fashioned superhero team-up. That will change on December 2 when Arrow and The Flash lock up for a two-night event, starting with The Flash episode "Flash vs. Arrow" and concluding the following night with the Arrow episode "The Brave and the Bold." To tease what's sure to be an epic crossover, the CW has released photos from "Flash vs. Arrow," which show our intrepid heroes both on-duty and having a little fun with their respective skill sets.
Oliver already saw Barry speed away in The Flash pilot, but judging from this image, it looks like the two of them will be testing Barry's speed by Oliver shooting an arrow at him. Barry spends most of his time using his powers to protect Central City, so there's nothing wrong with cutting loose.
Barry, of course, catches it in a way reminiscent of that teaser trailer for The Flash that aired back in May. With super speed on his side, how could anything as simple as an arrow hurt him? Well, just hang on...
Ouch! While the angle on this picture isn't great, it appears that one of the arrows somehow pierced Barry's back. He's a quick healer, but it just goes to show that he may not be able to control his powers as well as he thought...or that he was overconfident.
As we learned last week, the original reason Oliver, Felicity and Diggle are heading to Central City is to investigate a "mysterious boomerang" left behind by rogue A.R.G.U.S. agent Digger Harkness. The only thing odder than someone using a boomerang as a weapon is those two having their masks off in public. Rule #1 of being a superhero: don't take off your disguise in an open area.
While the Arrow episode will follow up on that angle, this episode will see Barry and Oliver unsuccessfully attempting to capture Ray Bivolo, a metahuman who can control emotions. When Barry goes after Bivolo alone, the emotion manipulator infects Barry with rage, and it will be up to Oliver and Teams Arrow and Flash to stop the out-of-control Scarlet Speedster.
Check out the gallery below for more images, including Felicity hanging out at S.T.A.R. Labs again, Diggle and Felicity out in the field (with some always-nourishing Big Belly Burger), Barry and Oliver facing an unknown enemy, and a few behind-the-scenes looks.
Photo Credit @ CW
Image 1 of 17
Image 2 of 17
Image 3 of 17
Image 4 of 17
Image 5 of 17
Image 6 of 17
Image 7 of 17
Image 8 of 17
Image 9 of 17
Image 10 of 17
Image 11 of 17
Image 12 of 17
Image 13 of 17
Image 14 of 17
Image 15 of 17
Image 16 of 17
Image 17 of 17
Connoisseur of Marvel, DC, Star Wars, John Wick, MonsterVerse and Doctor Who lore. He's aware he looks like Harry Potter and Clark Kent.